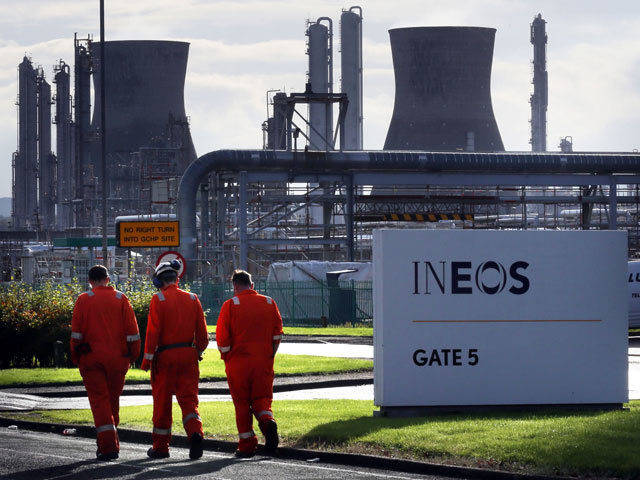 Grangemouth refinery operator INEOS made a fresh swoop on the fledgling UK shale gas industry today by agreeing to buy £30million-worth of fracking licences.
It is to acquire interests in north-west England and the East Midlands, as well as an operated stake in acreage held under a licence in Scotland through a farm-out deal with UK shale gas explorer IGas Energy.
INEOS is paying £30million up front and also taking on IGas's £65million share of development costs totalling £138million.
Gary Haywood, chief executive of INEOS Upstream, said: "This is a great opportunity to acquire some first-class assets that have the potential to yield significant quantities of gas in the future.
"INEOS believes that an indigenous shale gas industry will transform UK manufacturing, and that we can extract the gas safely and responsibly.
IGas chief executive Andrew Austin said: "We are delighted to announce this farm-out with INEOS which underpins the quality, scale and significant potential of our licences, whilst retaining material upside in these key assets.
"Alongside the commitment from our existing partners, INEOS's commitment of upfront cash and considerable capital investment will help fund us through the next steps of our shale appraisal and production programme.
"This transaction, together with our existing partnerships with Total and GDF, reinforces the potential and materiality of our portfolio…and strongly positions us as we seek to work together to unlock the potential of our untapped natural gas resources in Britain."
Friends of the Earth Scotland said the deal was "hardly a surprise", given the two firms' existing links.
Mary Church, the environmental group's head of campaigns, said: "The industry's game of musical chairs with fracking licenses will have little effect in Scotland where the unconventional gas industry is caught up in the recent moratorium.
"INEOS will be unable to exploit shale reserves near Grangemouth or anywhere else in Scotland any time soon."
She added: "Despite the UK Government's support for this risky industry, the company will face strong opposition from communities in northern England.
"We are convinced that a full, robust examination of the environmental and health impacts of the industry will lead to a complete ban on unconventional gas extraction."
In November, INEOS pledged – subject to it winning shale licences under consideration by the UK Government – to spend £640million on exploration.
Billionaire chairman and majority stakeholder Jim Ratcliffe said the investment would go ahead within five to six years, and more would follow if the company moved into development and production.
The Scottish Government recently introduced a moratorium on granting applications for fracking developments in Scotland until further research is completed.
Critics say the fracking extraction process – injecting chemicals, sand and water into rocks at high pressure – can pollute water supplies and trigger small earthquakes.
Read more market news here.
Recommended for you

Labour: GMB boss says not to put 'all the nation's eggs in one energy basket'