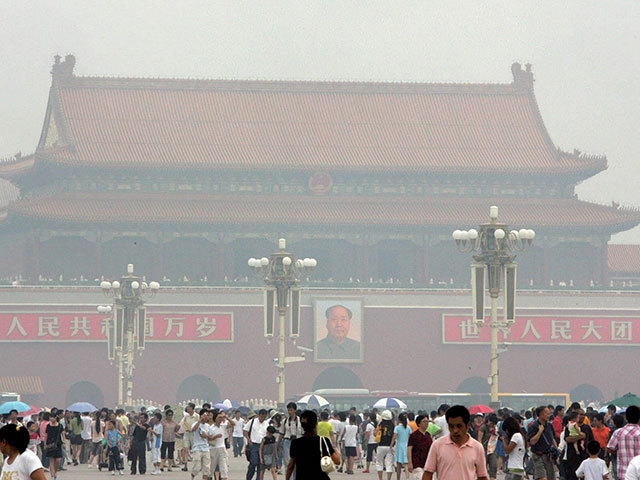 Chinese stocks have tumbled again after their biggest decline in eight years while most other Asian markets rebounded from a day of heavy losses.
The mixed picture comes after a tumultuous day on Wall Street, where the Dow Jones industrial average ended down 3.6% after trimming much bigger losses. European markets were also hit badly.
Analysts said it was unclear whether this was a sign the worst was over, or a reprieve in a longer-term bear market.
The declines in China were less severe. The Shanghai Composite Index was down 4.3% at 3,071.06 at midday on Tuesday after falling 6.4% in the first minutes of trading. On Monday, it plummeted 8.5%.
In Tokyo, the Nikkei 225 index was up 0.9% at 18,702.66 in afternoon trading after dropping 4.6% the previous session. Hong Kong's Hang Seng, which also lost 4.6% on Monday, was up 1.6% at 21,595.74. Sydney's S&P ASX 200 advanced 1.4% to 5,073.20 and Seoul's Kospi was steady at 1,829.06 after shedding 3% the previous day.
The global sell-off was triggered by the sharp drop in Chinese stocks on Monday, but experts said there was little change in economic fundamentals to justify such a massive global slide.
"There was no clear catalyst for the global stock meltdown. The lack of clarity makes it difficult to assess what is needed to stem the rout," said Bernard Aw of IG Markets in a report.
"A co-ordinated policy response is critical, and much of this needs to come from Asian economies," Mr Aw said. "A spate of better economic news may help to allay concerns that global growth is not deteriorating. Certainly, improvements in the Chinese economy will be welcomed."
China's fall was the latest in a series of jarring declines that have defied multibillion-dollar government efforts to stem a slide in prices following an explosive market boom.
In New York, the Dow Jones plummeted more than 1,000 points before ending the day down 588 points, or 3.6%, in its eighth-worst point decline ever. The Standard & Poor's 500 sank 3.9%, putting it in correction territory, meaning it had fallen at least 10% from a recent peak. In Europe, Germany's DAX index declined 4.7%, France's CAC-40 slid 5.4% and Britain's FTSE 100 lost 4.7%.
China's declines reflecting the cooling of a market boom that was driven by official policy and cheerleading from the government press, rather than by economic fundamentals. The Shanghai index rose 150% beginning late last year even as the world's second-largest economy was cooling, leaving little to support higher prices once investor enthusiasm faltered.
At Monday's close, the Shanghai index was down 38% from its June 12 peak and just under 1% from its closing on December 31. That meant the latest declines have wiped out this year's gains.
Investors abroad are increasingly uneasy about China's outlook, though there has been little change in forecasts and some areas including retailing still look relatively strong.
"Investors are overreacting about economic risks in China," said Mark Williams of Capital Economics in a report.
"The surge in prices that started a year ago was speculative, rather than driven by any improvement in fundamentals," Mr Williams said. "A combination of poor data and policy inaction in China
may have triggered today's market falls but the bigger picture is that we are witnessing the inevitable implosion of an equity market bubble."
In currency markets, the dollar gained to 119.8390 yen from Monday's 118.6930 yen. The euro edged down to 1.1543 dollars from the previous session's 1.1591 dollars.
Oil rebounded from Monday's steep declines.
Benchmark US crude gained 24 cents to 38.42 dollars per barrel in electronic trading on the New York Mercantile Exchange. The contract plunged 2.21 dollars on Monday to close at 38.42 dollars.
Brent crude, used to price international oils, advanced 26 cents to 42.95 dollars per barrel in London. It fell 2.77 dollars the previous day to close at 42.69 dollars.
Recommended for you

China's Russian energy imports balloon to $88bn since war