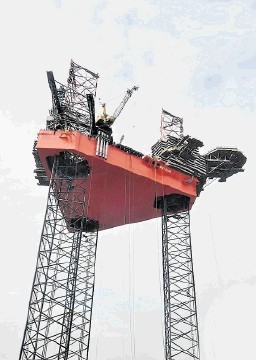 Seadrill has delayed delivery on 10 of its new-build projects as it saw profits fall as more of its fleet lay idle due to declining oil and gas activity.
Two drill ships currently under construction in Far East – the West Draco and West Dorado – are to be delayed from the end of the year until the end of the first quarter of 2017.
The deliveries of eight jack-ups currently under construction are being held back until 2016 and 2017.
Seadrill's operating profit for the three months to June was $384million compared to $703million in the preceding quarter.
Revenue was slightly down on the first three months of the year at $1.14billion, compared with $1.2billion.
Around $261million of the decrease was due to the gain on deconsolidation of its joint-venture SeaMex during the first quarter, and a loss on the sale of the West Polaris during the second quarter.
Seadrill said it expected to receive additional cash for West Polaris which will offset the loss shown in its latest figures.
The West Tellus and West Carina drillships commenced operations with Petrobras in Brazil on three-year contracts.
Net financial and other items for the quarter showed a gain of $84million compared to a loss of $197million in the previous quarter.
The company's total assets were $25.1billion, a decrease of $529million compared to the previous quarter. Cash flow increased to $918million, an increase of $15million compared to the previous quarter.
Recommended for you

Shell sets new record as annual profits more than double to $40bn