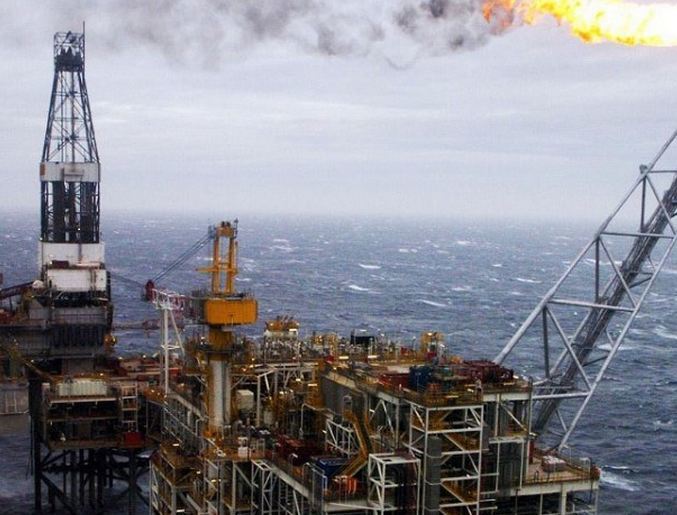 Japanese stocks fell, dragged down by energy explorers as oil prices declined and mobile carriers after Prime Minister Shinzo Abe called for lower phone rates.
Mobile carriers NTT Docomo Inc., KDDI Corp. and SoftBank Group Corp. sank at least 5.5 percent after Abe said reducing the burden on households from mobile phone fees is an important issue to tackle. Energy explorer Inpex Corp. declined 6 percent as crude oil traded below $45 a barrel. Kansai Electric Power Co. climbed 1.9 percent as utilities led gains on the Topix index. Shipper Kawasaki Kisen Kaisha Ltd. jumped 1.8 percent after Mitsubishi UFJ Morgan Stanley Securities Co. raised its investment rating.
The Topix slipped 0.9 percent to 1,466.37 as of 12:58 p.m. in Tokyo, swinging from a gain of 0.5 percent after last week capping its biggest weekly increase in almost two months. Volume was 34 percent below the 30-day intraday average. The Nikkei 225 Stock Average dropped 1.4 percent to 18,001.12. Both the Federal Reserve and Bank of Japan are holding policy meetings this week.
"Calling costs are high and while that's good news for consumers, the stocks are falling on the same theme," said Hiroaki Hiwada, a Tokyo-based strategist at Toyo Securities Co. "Investors are passing over the market ahead of the BOJ and FOMC policy meetings."
Heightened volatility in financial markets since China unexpectedly devalued its currency last month and signs the country's economic slowdown is deepening have injected extra uncertainty into the debate over whether the Fed will raise U.S interest rates Sept. 17. While futures traders see a 28 percent chance of an increase, economists surveyed by Bloomberg are about evenly split on whether the Fed will move.
China's industrial output rose 6.1 percent in August from a year earlier, the National Statistics Bureau said Sunday, below the 6.5 percent median estimate of economists surveyed by Bloomberg. Fixed-asset investment climbed 10.9 percent in the first eight months, compared with a median projection of 11.2 percent. The weaker industrial and investment figures underscore the challenge the government faces in meeting its growth target of 7 percent this year, as exports decline and producer price deflation deepens.
"The slowdown in China is continuing," said Shoji Hirakawa, chief equity strategist at Okasan Securities Co. in Tokyo. "The fact that investment is slowing down is especially worrying, and it's negative if you see it as proof that China's policies have been unsuccessful so far."
The Bank of Japan will maintain its policy stance at a meeting Tuesday, according to all but two of 35 analysts polled by Bloomberg. The BOJ will expand easing on Oct. 30, according to 11 economists in the Bloomberg survey taken from Sept. 7-10. Of the total respondents, 13 said they don't expect any stimulus at all.
E-mini futures on the S&P 500 Index added 0.2 percent after the underlying measure rose 0.5 percent on Friday.
"There's a lack of enthusiasm," said Andrew Clarke, director of trading at Hong Kong brokerage Mirabaud Asia Ltd. "We have the BOJ tomorrow, the Fed Thursday, and the question is what does China do next? Numbers over the weekend were not good out of the China. I guess some expect some sort of easing measures."
Recommended for you

US poised to release oil from reserve with other nations