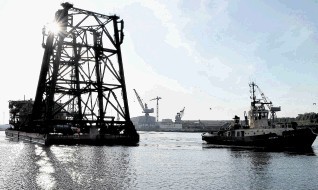 A call for decommissioning work to go to Dundee has been condemned by Aberdeen MSPs.
Speaking at Holyrood's First Minister's Questions, North-east MSP Jenny Marra, Labour, asked about decommissioning plans.
Ms Marra asked First Minister Nicola Sturgeon to commit to opening an oil and gas technology centre in Dundee, as well as expanding the waterfront to allow for decommissioning work in the city.
She said: "I ask the First Minister to pledge three things to the 100 engineers at the Flint factory who are facing redundancy.
"That the oil and gas technology centre will be established in Dundee, that she will find economic development money for our city as she did for Aberdeen, and that she will come to Dundee, meet with our decommissioning companies, and see how we can scale up to a full-size industry in our city."
Ms Sturgeon said decommissioning would be a major industry but made no commitment to Dundee or Aberdeen.
She said: "Where decommissioning does start we need to make sure Scotland is playing a leading role."
Aberdeen Central MSP Kevin Stewart, SNP, said: "It makes absolutely no sense whatsoever to base an oil and gas centre anywhere other than Aberdeen, where the expertise lies."
North-east MSP Alex Johnstone, Conservative, said: "The last thing we want to see is opportunities being taken out of the Aberdeen economy at this time to benefit Dundee."
Aberdeen Harbour Board chief executive Colin Parker said plans for decommissioning work to stay in Europe's oil and gas capital were well under way.
He said: "The development of additional facilities to the south of Aberdeen harbour would provide the longer, deep water berthage that is required to accommodate the larger subsea vessels associated with decommissioning activity.
"Additional harbour facilities at Aberdeen represent critical infrastructure for the energy sector at both a regional and national level."