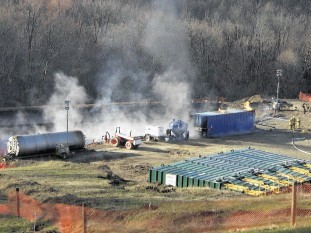 The actions that resulted in former Chesapeake Energy Corp. chief Aubrey McClendon's indictment aren't uncommon across the shale patch, lawyers and analysts said.
McClendon was charged Tuesday with allegedly violating antitrust laws known as the Sherman Act by coordinating a scheme in which two companies didn't bid against each other for oil and natural gas leases in Oklahoma. He died in a car crash in Oklahoma City the next day.
The Justice Department on Thursday moved to dismiss the charges against McClendon in federal court in Oklahoma, citing his death, but they are continuing to investigate the conduct, according to a person familiar with the matter.
The Energy & Minerals Group, one of McClendon's biggest backers at his post-Chesapeake venture American Energy Partners LP, is among those in the industry looking out for any ripple effects from the case.
"The entire oil and gas industry has been watching this investigation because it could have broader implications on the industry," Energy & Minerals Group Chief Executive Officer John Raymond said in a letter to investors.
Michigan charged Chesapeake and Encana Corp. in 2014 with dividing up counties in which each would seek drilling rights before a May 2010 auction, driving bid prices down from $1,510 per acre for that auction to $40 in October. The state settled with Encana in 2014 for $5 million and Chesapeake in 2015 for $25 million.
"I don't think it's uncommon," said Lance Astrella, a lawyer who specializes in energy litigation at Astrella Law P.C. in Denver. In particular, it wouldn't be unusual in areas "where you see a lot of hot plays," he said.
While those in the industry are aware of antitrust laws that prohibit collusion between competitors, Astrella said it's not rare to see leasing patterns, for example, that suggest two parties are staying out of each other's way. Some practices may appear suspicious, but courts becoming stricter about needing direct evidence has limited the number of cases, he said.
Independent oil explorers for years asked people to contribute to their drilling funds, and McClendon was doing that on a larger scale, Charles Maxwell, a former senior energy analyst at Weeden & Co. LP, said Thursday on Bloomberg TV. "Now it's seen as a practice that we should no longer follow. But I think that to call this evil would be a little harsh on the history of how it emerged and what was very common when he started in the business."
"I won't tell you that doesn't happen, but I don't think it happens all that often," said John Lowe, an energy law professor at Southern Methodist University in Dallas. "I don't think this is business as usual."
The Justice Department has shifted its focus toward prosecuting individuals instead of just companies, said Scott Wagner, a partner focusing on antitrust in Miami-based Bilzon Sumberg Baena Price & Axelrod's litigation group, who has worked on investigations related to energy. A company may dismiss fines as part of the cost of doing business, but a conviction against an individual may be more of a deterrent, he said.
"I have been singled out as the only person in the oil and gas industry in over 110 years since the Sherman Act became law to have been accused of this crime in relation to joint bidding on leasehold," McClendon said Tuesday in a statement.
"The Justice Department has taken business practices well- known in the Oklahoma and American energy industries that were intended to, and did in fact, enhance competition and lower energy costs and twisted these business practices to allege an antitrust violation that did not occur," his lawyers said.
"It probably is pretty prevalent," Wagner said. "How would this get picked up? Who is going to be the one to complain?"
Recommended for you

Thailand needs 'shale' gas moment as energy crisis deepens on PTTEP's watch