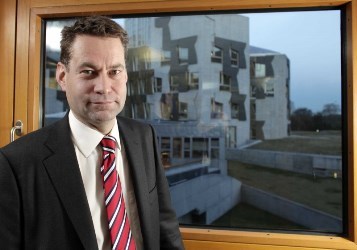 North Sea oil and gas companies are being held up from maximising opportunities in fracking because of the Scottish Government's moratorium on shale gas, claims a leading politician.
The Scottish Conservative's energy spokesman and MSP candidate for Mid Scotland and Fife, Murdo Fraser, made the remarks as First Minister Nicola Sturgeon pledged to help Scottish firms secure contracts in the offshore renewables industry if her party is re-elected on May 5.
Rival parties have criticised the SNP's policies toward the oil and gas sector in the past arguing not enough has been done to help the oil and gas sector.
Fraser said: "There is also an opportunity for North Sea Oil and Gas companies to diversify into unconventional onshore extraction, but the Scottish Government's moratorium on fracking currently prevents these opportunities being developed."
Sturgeon had claimed earlier this week she did not see the potential of offshore renewables as an "alternative to oil and gas" but rather an area where there is already an advantage to be taken.
The politician highlighted Statoil's Hywind project as an example of oil and gas companies now working in the offshore renewables sector.
But Fraser also hit out at the planning process for the renewables industry in Scotland which he claimed is "double that" in comparison to England.
He added: "Until we see that improve, we won't see the opportunities open up."
The Scottish Greens have heralded the comments from the First Minister as they called for a plan to be put in place for transition from oil and gas to offshore and onshore renewables.
Maggie Chapman, co-convener of the Scottish Greens and MSP candidate for the North East region, said her party had already outlined the potential jobs boost the renewables industry could harness.
Meanwhile, Scottish Liberal Democrat energy spokesman and MSP candidate for Orkney, Liam MacArthur, said It would "make sense" for the expertise of workers to be used in the growth of the renewables sector.
He said the move "wouldn't be earth shattering" which made it difficult to understand why the SNP hadn't "done it sooner".
The politician added: "The SNPs's approach to the marine renewables sector has also been underwhelming at best. They've left the £10 million allocated for the unattainable Saltire Prize to sit and gather dust in the government's bank account."
Recommended for you

'Collaboration' is the key takeaway from AREG opening session