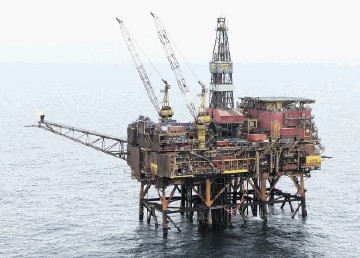 Abu Dhabi National Energy Co is considering whether to sell its overseas oil and gas assets to another Abu Dhabi state-owned entity as it focuses on its core business of power generation and water production.
According to TAQA's 2015 annual report, the company has an agreement with a "related party" under which, at the request of TAQA, that party would buy all its oil and gas assets in North America and Atrush in Iraqi Kurdistan, plus most of its assets in Europe, at an agreed price.
The annual report didn't specify the price or the related party. But the sources, who are close to TAQA but declined to be named because the matter isn't public, said the company was now considering exercising that option. TAQA declined to comment.
Loss-making TAQA, 75% owned by the government of Abu Dhabi, has been scaling back investments overseas and cutting costs to cope with the slump in crude oil prices.
Founded in 2005, TAQA went on an expansion drive to create an energy giant to rival oil majors such as Exxon and BP. Billions of dollars were spent acquiring assets in North America, Britain, the Netherlands and Iraq.
But in the last two years it has suffered from the plunge of global oil prices and huge debts taken on to fund its expansion. TAQA's oil and gas assets were valued at 30.10 billion dirhams ($8.2 billion) at end-2015, its annual report showed.
Now it plans to focus on its core water and power business and divest stakes in non-core assets, company officials have said.
In the UK North Sea, a targeted well intervention program, helped offset production decline in the face of lower capital expenditure.
The company's operating cost per barrel was 17% lower compared to 2014. TAQA completed its Cladhan field development in which it has a 53% ownership stake in December.
"TAQA's investment strategy hasn't worked as expected and weak oil prices are forcing it to sell its oil and gas assets to one of the Abu Dhabi government-related entities," one source familiar with the matter told Reuters news agency.
The sources said they believed one of three Abu Dhabi state entities might buy the assets: International Petroleum Investment Co (IPIC),investment firm Mubadala, or Abu Dhabi National Oil Co (ADNOC).
Mubadala and ADNOC said they did not have any agreement to buy TAQA assets. IPIC declined to comment.
Last week, Standard & Poor's affirmed its 'A' long-term corporate credit rating of TAQA, although it said it considered TAQA's stand-alone credit profile had weakened to 'B'.
S&P cited not only continued Abu Dhabi government support for TAQA but also the agreement with the related party, which it said gave the company "an option to sell most of its oil and gas assets at book value".
This provides a floor to the value of the oil and gas business and, "in our view, is further evidence of the financial links between TAQA and the government," S&P added.
TAQA made a net loss of 1.8 billion dirhams in 2015, mainly because of lower revenue from oil and gas. The company will not pay a dividend for 2015, the third straight year it has not paid shareholders. Its total debt stood at 74.3 billion dirhams at end-2015.
In November, TAQA said it was aiming to develop domestic oil and gas projects, leveraging on its overseas expertise; it signed an agreement with ADNOC to develop oil and gas projects within Abu Dhabi.
Recommended for you

UAE to more than double LNG export capacity with Fujairah plant