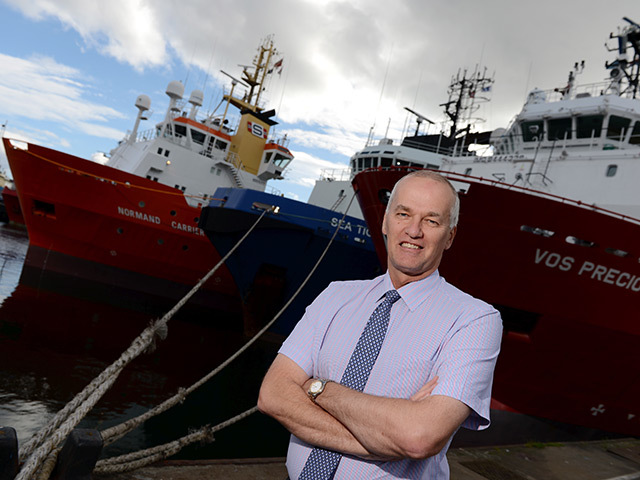 The head of Aberdeen harbour said yesterday the decision to overlook the Nigg Bay expansion project for City Region Deal funding did not "make his day", but was "not a complete surprise".
Aberdeen Harbour Board (AHB) had hoped to benefit from the £250million city deal, but will have to fund the project with its own profits and third party backing following the snub.
Projected costs for Nigg Bay have shot up to £415million from £320million and AHB has previously said it will need to borrow up to £200million.
AHB chief executive Colin Parker said local authorities will be able to use £25million of city deal cash to improve road access to Nigg Bay, but only after the new harbour is built.
Mr Parker said: "There are issues governments face in terms of state funding for ports. It did not make our day, but it was not a complete surprise."
In the meantime, he said AHB was "exploring all avenues to find grant funding to reduce the burden on customers".
Aberdeen harbour users have been hit by rate increases of 17.3% in 2015 and 15.8% this year as part of wider plans to cover the expansion costs.
Mr Parker said port users had been consulted about the changes and had understood the need for their introduction.
He said: "Customers appreciate we're not profiteering and that the money goes towards providing facilities for the future. Nigg Bay is an important project appreciated by customers."
AHB profits rose 21% last year, an impressive feat considering the port's size limitations and the oil and gas industry downturn.
Yesterday, AHB said pre-tax profits for 2015 had gone up to £15million on turnover of £31.7million, despite a dip in activity levels.
The number of vessels using the port fell 6% to 7,428, though tonnage only decreased by 2.1%.
Mr Parker put yesterday's improved financial results down to a combination of keeping the harbour's cost base in check, rates rises, and diversification of its cargo portfolio.
Mr Parker also said passenger and freight services to Orkney and Shetland had continued to be in demand, contributing to a 2.9% increase in overall passenger numbers to 158,226.
But he was adamant the port's expansion is vital for the region, saying: "This is a critical time for Aberdeen and its future. The timing of the development gives us a great opportunity to build on our current traffic flows, anchor decommissioning activity in the north east of Scotland and continue to build on our strong international links."
Recommended for you

From oil rigs to floating wind – work starts on Ardersier Port transformation