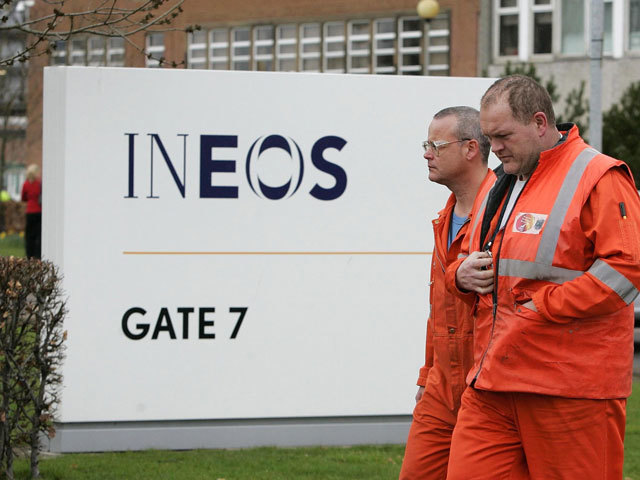 Ineos said yesterday it was investing millions of pounds to expand production at a factory that will use ethylene produced from US shale gas into Scotland as its main raw material.
The Swiss chemical giant also said its plans to boost output of ethyl acetate (EtAc) – used in pharmaceuticals, cosmetics, inks and packaging – reflected its confidence in the UK economy after the Brexit vote.
Its (EtAc) manufacturing plant in Hull is expected to produce an extra 100,000 tonnes a year as a result of the investment.
Ethylene from the US shale gas will flow through a new pipeline from the group's petrochemicals plant at Grangemouth.
Ineos said the economics of shale gas would give its EtAc factory a competitive advantage
Group founder and chairman Jim Ratcliffe, who has been building a North Sea gas portfolio and hopes to introduce onshore hydraulic fracturing, or "fracking" in Scotland, said: "We believe in British manufacturing and will support it wherever we can.
"Our Hull plant is at capacity and this extra investment will enable us to significantly increase production that we will sell all over Europe and across the world."
Graham Beesley, chief executive at solvents subsidiary Ineos Oxide, added: "We are the largest producer of EtAC in Europe and we are about to get a lot bigger.
"Growth in demand for our products is strong and this investment will support our customers' needs over the long term"
Recommended for you
X

Prosafe reveals new refinancing plan