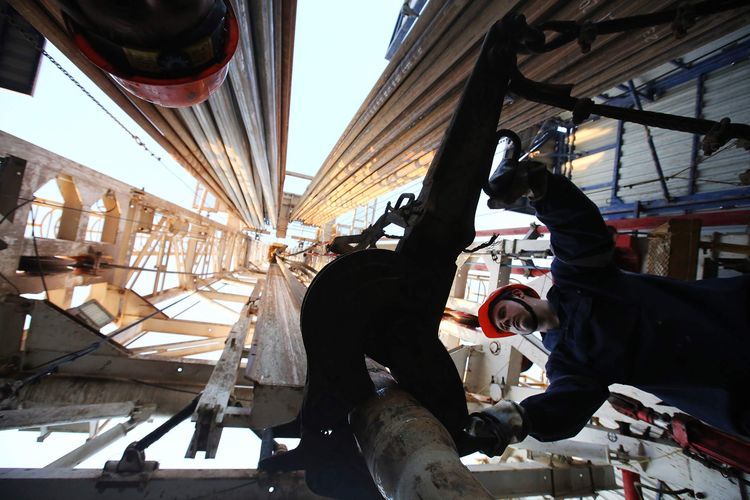 The era of monster takeouts in the oil-services world took a further step back Thursday when National Oilwell Varco Inc. and GE Oil & Gas partnered up, reinforcing an industry-wide push for cost savings over size.
The last major attempt at large-scale consolidation failed after Halliburton Co. called off the $28 billion takeover of Baker Hughes Inc. in May as antitrust regulators declined to sign off on the deal. Since the giant merger was announced in late 2014, the industry has seen a number of joint ventures and targeted acquisitions that help broaden the scope of services and equipment offerings — rather than create a behemoth. They include the merger between FMC Technologies Inc. and Technip SA, as well as Schlumberger Ltd.'s deal for Cameron International Inc.
"The takeaway from Halliburton-Baker, if there is one, would be scope can get done but scale is more difficult," Sean Meakim, an analyst at JPMorgan Chase & Co. in New York, said in a phone interview. "What you're going to continue to see are just a number of different permutations as the offshore value chain tries to figure out how to take costs out of the system."
The worst crude-market crash in a generation has forced explorers to slash global spending the most in more than 30 years to survive, according to Evercore-ISI. Yet more is needed for complex deepwater projects, where higher oil prices are needed for drilling to resume.
Cost Cuts
Roughly $1 out of every $4 in costs for deepwater projects have been eliminated through various joint ventures and mergers among servicers and through collaboration with producers, Meakim said. Another 20 percent still needs to be cut, he said.
The National Oilwell-GE joint venture will allow the two companies to deliver a more rounded package of gear that sit above the water's surface for giant floating vessels that produce, store and offload oil, known as FPSOs. The new integrated offerings will be available by early next year, the companies said Thursday.
National Oilwell Varco rose 0.7 to $31.69 at in New York, while GE rose 0.3 percent to $31.82.
"I don't believe this signals a lower appetite for M&A but rather a sound strategic combination that put together a full topside package for FPSOs," James West, an analyst at Evercore, wrote in an e-mail.