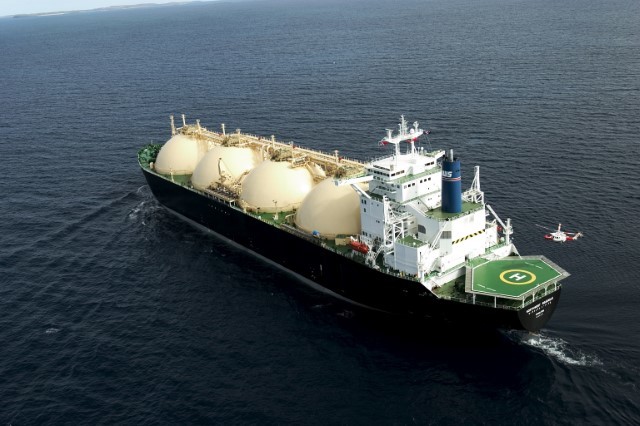 The Japanese company poised to become one of the world's largest LNG buyers says it shouldn't need to pay producers to lift restrictions on where it can resell cargoes and that the removal would benefit the whole market, including sellers.
Jera Co., a joint venture between Tokyo Electric Power Co. Holdings Inc. and Chubu Electric Power Co. that has contracts to buy LNG from the U.S., Australia and Qatar, has said it won't sign new contracts with the clause. Royal Dutch Shell Plc and BP Plc warned last month if Japan moves to ease restrictions that prevent its importers from reselling the gas, the Asian nation may have to purchase the fuel at a higher price in return.
"We think there is a significant amount of benefit for all parties in the industry to be able to run the thing in a more efficient way," Jera Chairman Hendrik Gordenker, former counsel at White & Case LLP, said in an interview in Tokyo on Thursday. "If you make the shipping more efficient, then there will be shipping capacity available, and the sellers who have an extra cargo to produce in market may have a better opportunity."
Buyers are fighting for more concessions including the removal of clauses that restrict reselling the super-chilled fuel amid a global glut. Japan's Fair Trade Commission is investigating whether the clauses violate competition laws.
By 2020, between 10 to 20 percent of Jera's roughly 40 million-ton portfolio of LNG will have no destination clauses or loose restrictions, Senior Executive Vice President Hiroki Sato said in an interview on Friday.
An estimated 80 percent of long-term LNG contracts between major Japanese and South Korean buyers and suppliers include limits on resales, Tokyo-based law firm Nishimura & Asahi said in a Feb. 12 presentation for a study group commissioned by Japan's Ministry of Economy, Trade and Industry.
Shipping Capacity
Removing the restrictions makes the market more efficient, lowers landed prices, shortens delivery times and increases margins, according to Gordenker. By making the LNG shipping industry more efficient, it essentially expands capacity and ability to more quickly deliver fuel to consumers.
Japan's Fair Trade Commission is seeking contract details from the country's LNG buyers including whether those clauses can be changed, terms of delivery and the number of cargoes received since fiscal year 2013, a person familiar with the matter said last month.
Destination clauses are "clearly detrimental to the development of a functioning, fully flexible LNG market," the International Energy Agency said in its 2016 Global Gas Security Review. While Japan would be in a position to become a seller of LNG in a few years time to countries such as China, the clause would constrain it from doing so, the Paris-based IEA said.
'Cheapest Price'
Buyers can prioritize price or flexibility but probably not both, Steve Hill, executive vice president for gas and energy marketing and trading at a unit of Royal Dutch Shell said in a Nov. 24 interview. "You have to be a very good buyer to get the cheapest price and most flexibility because flexibility isn't free," he said at the time.
Shell estimates it handles almost a quarter of the global LNG market.
Northern Asian spot LNG prices have plunged more than 60 percent since a peak in February 2014. Importers already have the upper hand because of a supply glut, and are seeing the benefits of cheaper prices and flexibility already, according to Mikiko Tate, a senior analyst at Sumitomo Corporation Global Research Co.
"If there is a rational case to be made for it, then maybe there are some situations," Gordenker said. "The rationale isn't there. Why should removing that clause cost anything at all?"
Recommended for you
X

ConocoPhillips to remain in Houston 'Energy Corridor' following move