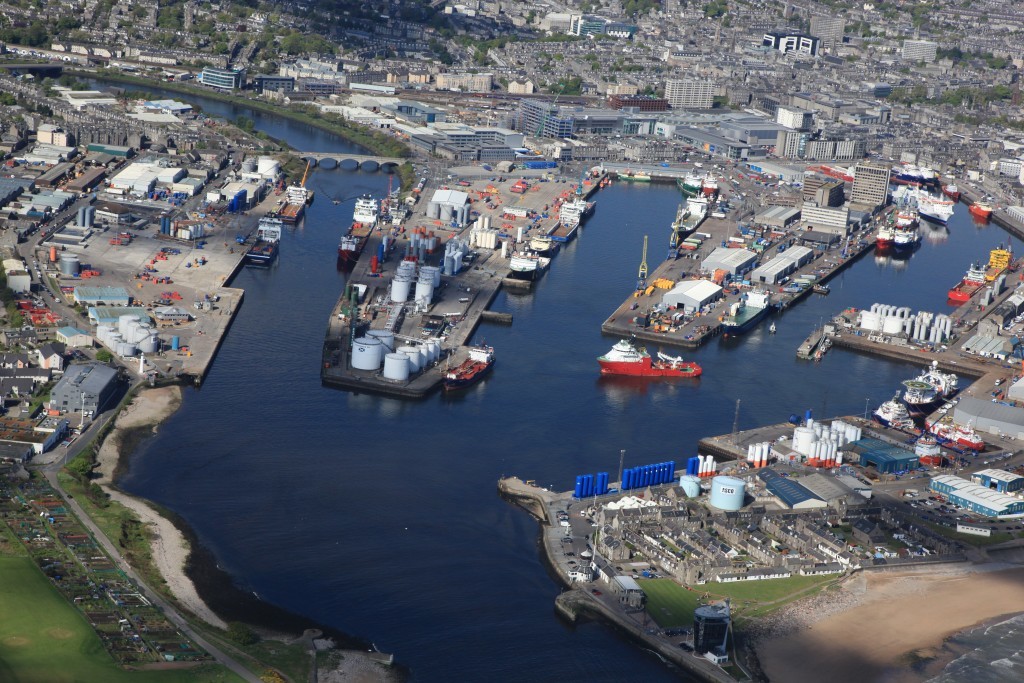 Ports in the north-east of Scotland have denied charging oil support vessels over the odds for harbour berthing spaces and services.
Bosses at harbours in Aberdeen, Montrose and Peterhead said their rates were competitive and that any increases had been kept well below inflation levels.
Inger-Louise Molvær, a senior offshore analyst at Westshore Shipbrokers, had claimed the Scottish ports were asking for "twice, almost three times as much as what's being asked over in Stavanger or Bergen".
Westshore, based in Kristiansand, Norway, provides vessel chartering and sale and purchase services, as well as market intelligence reports.
Ms Molvær made her claims in one of Westshore's North Sea intelligence reports titled Navigator.
Ms Molvær said rates at the three Scottish ports were "another legacy of how the golden age of North Sea oil had allowed suppliers to charge what they want".
She accused them of hiking up charges for vessels involved in offshore exploration and said that the current pricing structure was difficult for shipowners to bear during the oil price downturn.
She said: "While extensive measures have been put in place to cut operating costs on the part of the ship owners, the cost of taking a vessel into port has just climbed … (to) the point where the cost of taking a vessel into a Scottish port can wipe out any income for a (platform supply vessel) if the job it's fixed on is short."
But Aberdeen Harbour Board (AHB) questioned the credibility of the report, warning that it would be "unwise" to view it as a "purely objective, technical piece of work".
AHB said in a statement: "Aberdeen Harbour would challenge any suggestion that it had named its price for harbour services during heightened periods of prosperity within the region, and that rates were therefore hiked up during these periods.
"Aberdeen Harbour has … always produced a published annual set of rates that are applicable to all customers and, in the period since 1983, more than 30 years, Aberdeen rates have increased by only 78% compared to an inflation increase of 228% in the same period."
AHB also said it was "puzzled" that the report seemed to suggest Aberdeen needed more capacity while also appearing critical of its efforts to create space.
Last month, the board announced it would press ahead with the £350million expansion into Nigg Bay, a move which would provide about 4,600 feet of new quayside.
AHB has increased charges in recent years to help fund the project, but the board said its customers had been consulted extensively and supported the pricing structure.
The board said: "It is puzzling that the article fails to spot the connection between the 'congestion' it alleges exists in the existing port and the short term raising of harbour rates in support of expanding the port, with the aim of alleviating congestion, which it is also critical of."
AHB did not outright dismiss the claim that its costs were higher than Scandinavian rivals.
But AHB did say port costs varied considerably depending on location and the unit of measurement used when calculating charges.
AHB added: "We would recommend that, when comparing one port or country with another, the capability and quality of the infrastructure and marine facilities available also plays an important factor in these calculations."
Aberdeen, which Ms Molvær identified as having the highest harbour dues of the three north-east ports, charges oil support vessels 63p per gross tonne for the first five days.
Ian Laidlaw, chief executive of Peterhead Port Authority, said: "Our dues are published and do not discriminate in favour of or against oil vessels. All commercial trade is charged the same rate, so there is no profiteering on any sector when times are good."
Nik Scott-Gray, chief executive of Montrose Port Authority, said: "Montrose offers some of the most competitive rates on the east of Scotland, which is underlined by the good volumes of shipping traffic visiting the port."
Recommended for you

Aberdeen Harbour in rebrand as £400m expansion takes shape