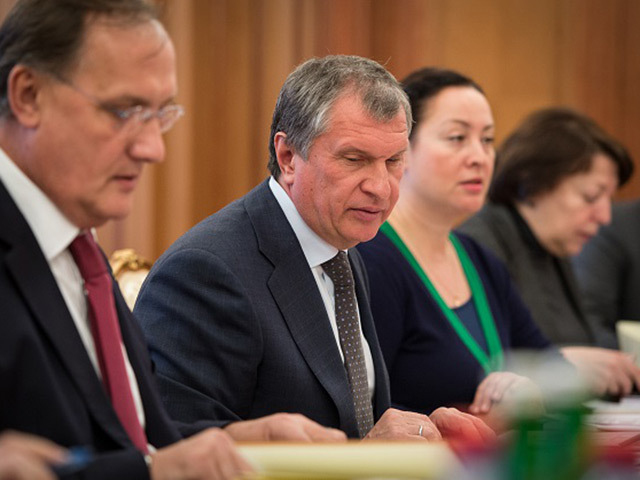 The head of Russia's biggest oil company Rosneft met with a government minister in what turned out to be a law enforcement sting operation, according to reports
Igor Sechin, a close ally of president Vladimir Putin and executive chairman of the majority government owned oil firm, met at a pre-arranged meeting with Alexei Ulyukayev, who at the time was minister for economic development.
State investigators later charged the minister with receiving a $2 million bribe.
Analysts say that Sechin's reported role in the sting is likely to bolster his reputation as a enforcer for the Kremlin.
Meanwhile Ulyukayev, 60, has denied the bribery charges. His arrest marks the first time a serving Russian minister has been detained in decades.
Investigators said in a statement at the time that Ulyukayev had extorted the $2 million in return for giving his ministry's approval for an acquisition that Rosneft made last year.
The Head Office of the Russian Federation's Investigative Committee initiated criminal proceedings on November 15 against Ulyukayev .
In a statement the investigative body said the former economic minister was suspected of a grand bribe under Part 6 of Article 290 of the RF Penal Code.
The statement added: "The investigation was opened based on the results of operations carried out by the Federal Security Service which suggest that Ulyukayev extorted the bribe.
"According to investigators, Ulyukayev took $2million on November 14 in return for the Economic Development Ministry giving a positive assessment of state-owned oil company Rosneft deal to buy the government's controlling stake of 50% of Bashneft oil company."
The minister was detained and questioned.
Ulyukayev is understood to be under house arrest pending trial.
The sting operation unfolded at the Rosneft offices, just across the Moskva river from the Kremlin.
It was said to have been planned in advance by law enforcement agencies in conjunction with unnamed Rosneft officials, state investigators said.
Sources close to the case claim that Sechin was present when Ulyukayev was presented with a large sum of cash.
A lawyer representing Ulyukayev declined to comment.
Rofsnet was said to be worth as much as $130 billion last year. Read more about the company here.