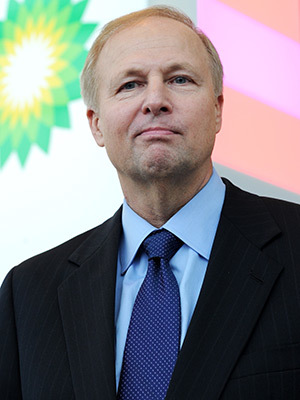 BP is focusing "squarely on the future" with plans for growth based on $55 dollar oil, according to chief executive Bob Dudley.
The head of the supermajor said it had been on a "long and hard road" in recent years with the fallout from the 2010 Deepwater Horizon disaster and the two year slump in global oil prices.
But having weathered the storm, Dudley said it is now time for "evolution not revolution".
The CEO and his management team are setting out strategic plans to the year 2021, with plans for business growth based on oil remaining at current prices of around $55 a barrel.
Management teams are to travel to London, Edinburgh, New York, Dallas, Houston, Paris and Frankfurt to update investors personally on the fine details of the strategy this week.
Dudley said: "In six years we have fundamentally reshaped and built a very different BP. We are now stronger and more focused – fully competitive and fit for a fast-changing future.
"We have proven financial discipline, clear plans in action and have built a distinctive portfolio which gives us a strong platform for growth, now and into the future.
"Striking a balance between short and long-term value, our recent acquisitions and agreements have strengthened this even further.
"We can see growth ahead right across the group. While always maintaining our discipline on costs and capital, BP is now getting back to growth – today, over the medium term and over the very long term."
BP's five year strategy forecasts that both upstream and downstream businesses will grow.
In the upstream, growth is expected to come from a continuing series of major higher-margin project start-ups.
The downstream expects to deliver strong marketing-led growth.
This will be "underpinned by BP's continued focus on safe and reliable operations, increasing efficiency, simplification and modernisation", said the firm.
Production ramping up from new upstream projects is also expected to deliver an improvement in BP's operating cash flow through the second half of 2017.
BP intends to maintain its existing "financial frame" throughout the five years to 2021.
Organic capital expenditure, which excludes acquisitions, is to be kept within a range of $15-17 billion a year.
Brian Gilvary, BP chief financial officer, said: "Last year we delivered our targeted $7 billion reduction in cash costs a year early, and capital spending was $8.6 billion lower than its peak in 2013 – without damaging our growth pipeline.
"We will continue that tight focus on costs and capital discipline and seek further improvements throughout the Group.
"We expect this combination of continued cost discipline with the growing cash flow from our core businesses – and the recent portfolio additions – will steadily drive down the cash balance point of the business.
"Over the next five years we expect this to fall to around $35-40 a barrel for the Group overall."
BP said it expects to increase returns over the next five years assuming a stable oil price.
Recommended for you

Tackling 'low confidence' in North Sea methane monitoring