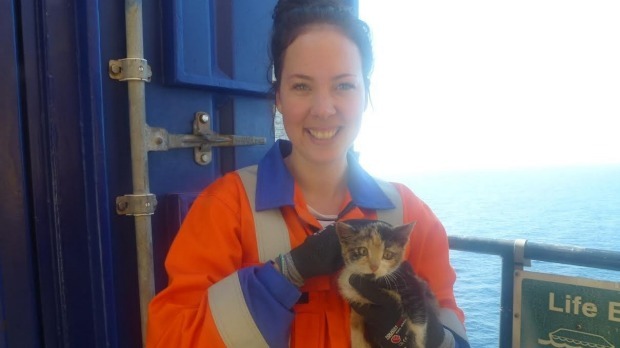 A cute stowaway kitten ended up stranded on an oil rig off the coast of New Zealand after stealing a ride aboard a supply ship.
The pint-sized cute cat's sudden appearance on the platform off the coast of Taranaki caught workers by surprise – as no animals are allowed on board.
But it was not long until the three month old was a firm favorite of the crew – with one even offering to rehome her.
They nicknamed her Maui – after the gas field where she was found.
She was spoiled by the crew while a helicopter was called for to transport her to the mainland.
Shell New Zealand chairman Rob Jager said it was likely she'd climbed into a shipping container while it was being loaded, and wasn't discovered until she was at the platform roughly 50 kilometres off the coast.
He said: "It's unusual to have a small animal or bird found offshore but it has happened before.
"Now one of the guys from the Maui team is taking her home. He looked after her when she was offshore and has convinced his wife they should keep her.
"Unless someone claims her."
She's now staying at St Aubyn Vet Clinic in New Plymouth until her new family takes her home.
Vet Gemma Kinross said she got a call from one of her clients asking to borrow a cage to take to the Maui B platform.
She said: "It was all a bit confusing, I just thought they meant the port.
"But then they said it needed to be pretty fast because there was a helicopter waiting."
She added: "We have no idea what her start in life was like, we checked for a microchip straight away.
"It seems like everyone loved her, someone rang today saying they would have her as soon as she could leave."
Despite being a bit dirty after her sailing trip Maui was not harmed and is now recovering from her offshore experience.