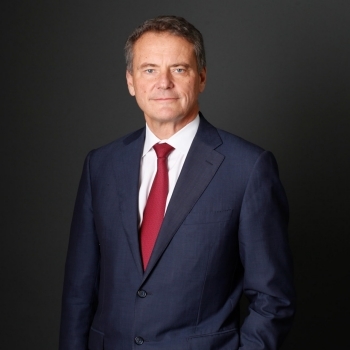 BP chairman Carl-Henric Svanberg has announced plans to step down from the oil major.
Mr Svanberg, who took up the role in January 2010, will remain until a successor can be found.
He will chair the company's annual general meeting (AGM) in May next year.
Ian Davis, the BP board's senior independent director, will now lead the process to identify and appoint BP's next chairman.
Mr Svanberg said: "It has been a tremendous privilege to lead the BP board over the past eight years.
"I am proud of the achievements of the management and the company in that time.
"The first couple of years were incredibly challenging for us all as we navigated an unusually complex corporate crisis.
"Through that turbulent period we stayed focused on saving and restoring the company.
"Today I can say with confidence that BP is back and ready for the future.
"Our chief executive, Bob Dudley, is the one who, with his team, deserves credit and I am pleased that whoever is fortunate enough to succeed me as chairman will have the opportunity to work with him and his impressive management group.
"Until then, I look forward to continuing to serve BP and our shareholders."
Mr Dudley, BP group chief executive, said: "BP's comeback would not have been possible without the strong leadership and steadfast support of Carl-Henric and the board.
"Together we were able to honour our commitments to the Gulf while rebuilding BP into a safer, stronger company.
"We devised a strategy to weather the downturn in the oil market while returning to growth.
"And we committed to playing a leading role in the energy transition while delivering oil and gas more efficiently. Carl-Henric's wise counsel and good humour will be sorely missed."
Mr Svanberg was appointed in September 2009 and officially became chairman of the BP board on January 1, 2010.
He is 64 years oil and comes from Sweden, according to his biography.
He spent his early career at Asea Brown Boveri and the Securitas Group, before moving to the Assa Abloy Group as president and chief executive officer.
From 2003 until December 2009, he was president and chief executive officer of Ericsson, also serving as the chairman of Sony Ericsson Mobile Communications.
Earlier this year he assured investors that the oil giant had made "appropriate" changes to director pay following a shareholder revolt over chief executive Bob Dudley's remuneration package last year.
Speaking at BP's annual general meeting (AGM), Mr Svanberg said that the company's entire board had worked to review the policy and had proposed a "balanced" alternative.
Mr Dudley has seen his pay package slashed by 40% for 2016 and his maximum earnings cut by $3.7 million (£3 million) over the next three years in hopes of seeing off a fresh shareholder rebellion.
Recommended for you

FPSO sailaway for BP's GTA LNG project