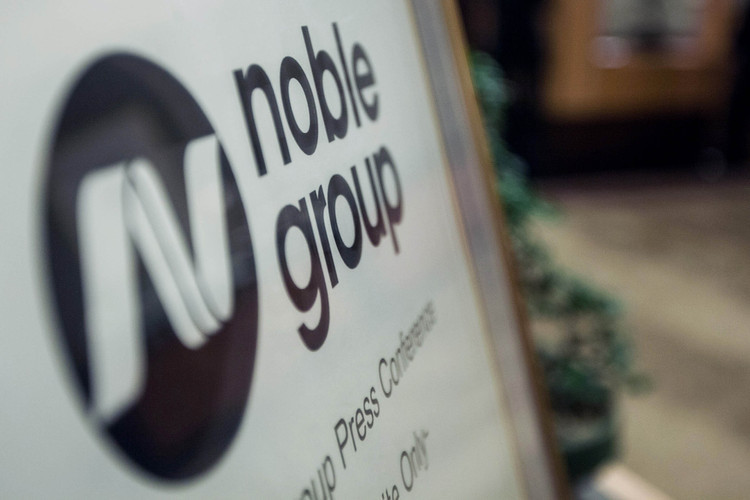 Embattled commodity trader Noble Group Ltd. agreed to sell most of its oil-liquids business to Vitol Group to help pare down debt, while warning that it's set to post a net loss of more than $1 billion for the third quarter as its access to financing remains constrained.
Proceeds from the sale would have been $582 million, an illustrative figure that's based on first-half accounts, according to statements from the company on Monday. Noble Group also said that amount was derived from a starting sum that included proceeds from the earlier sale of its gas-and-power unit. Shares of the trader slumped the most in nearly three months.
Among highlights from the company's two statements on Monday are:
A total net loss of $1.1 billion to $1.25 billion expected in the third quarter That total figure includes an adjusted net loss from continuing operations of $50 million to $100 million, as well as exceptional losses including non-cash items of $1.05 billion to $1.15 billion Lenders agreed to a two-month extension of a waiver related to a revolving-credit facility to Dec. 20 Proceeds from the oil sale and gas-unit sale are expected to be enough to retire the Noble Americas Corp. borrowing base revolving facility, and the Noble Clean Fuels Ltd. borrowing base revolving facility
Noble Group, once Asia's largest commodity trader, has been rushing to sell its oil business to pay back lenders in a struggle to survive. The deal is the latest in a string of disposals as executives pursue a shrink-to-survive strategy to meet obligations. The company's crisis spans the past two years and its shares have lost about 90 percent since early 2015 as Noble Group draws back to a largely Asian business focused on coal, iron ore, freight and LNG.
'Fighting to Survive'
"The core of their business has changed to some degree, but they're still fighting to survive," Nicholas Teo, a trading strategist at KGI Securities (Singapore) Pte, said by phone. "Management has been selling assets to lighten the debt load, and this oil deal is quite significant in size."
The trader's shares, which were suspended on Friday ahead of the announcements, dropped as much as 12 percent to 33.5 Singapore cents, and traded at 34 cents at 12:24 p.m. The stock has collapsed about 80 percent this year amid concerns Noble Group will default.
Noble Group had total debt of $4.6 billion at end of June, including $2.7 billion of bonds, $1.1 billion of a revolving credit facility, and two borrowing base facilities, according to Bloomberg-compiled data. Its 2020 notes rose 1 cent on the dollar to 38.7 cents, according to Bloomberg-compiled prices.
"The operating environment continues to be challenging," for Noble Group and that affected performance in the third quarter, the company said. "Conservative liquidity management and constraints placed on the Group's access to trade finance lines led to disruption costs and prevented the Group from taking advantage of profitable trading opportunities."
The deal for the oil business follows the sale of the smaller gas-and-power trading unit to Mercuria Energy Group Ltd., which was completed last month. Noble Group received less than anticipated from that disposal — having estimated Mercuria would pay $261 million for the unit, Noble received $102 million, with a further $83 million deposited into an escrow account.
Cutting Debt
"The net proceeds will unlock capital from Noble Group's balance sheet and generate significant liquidity," the company said, referring to the cash it'll get from selling the oil-liquids business to Vitol, the world's largest independent oil trader. "It is expected that the net proceeds will be made available to reduce Noble Group's indebtedness."
Noble Group in July disclosed the plan to sell the oil business, which trades about 2.5 million barrels a day of crude and refined products. A plan to announce a deal by end-September was delayed in part by the impact of hurricane Harvey in Houston, where the bulk of the oil business is located.
Earlier this month, the deal looked to be at risk when Vitol Group's chief executive officer said negotiations were "very complicated." In an interview with Bloomberg TV, Ian Taylor warned that the talks may not end in an agreement. Asked whether the stumbling block was price, he replied that it was "more the overall terms and conditions" of the deal.
Recommended for you

Repsol sells stakes in renewables unit to EIP, Credit Agricole