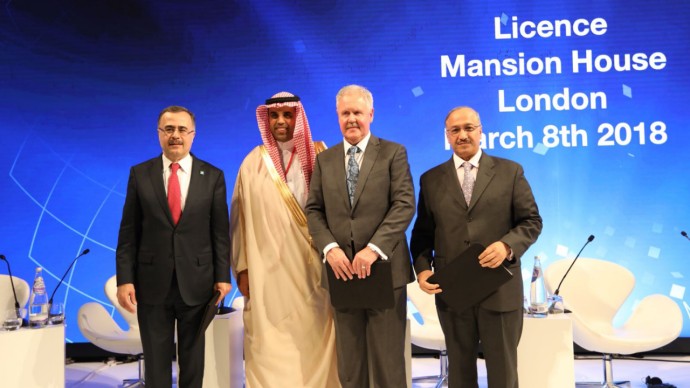 Aberdeen-headquartered energy services firm Wood has won a contract to develop the world's largest crude oil to chemicals (COTC) project for Saudi Aramco and SABIC.
The complex in Saudi Arabia is expected to process 400,000 barrels per day and process approximately nine million tonnes of chemicals and base oil annually.
Wood says it expects the deal will continue through to the start of operations, which are scheduled for 2025.
The work will be executed from Wood's offices in Reading and Al-Khobar.
By 2035, the COTC is expected to be a significant contributor to Saudi Arabia's gross domestic product and diversification away from crude exports.
Saudi Aramco, the state-owned oil producer in the kingdom, and SABIC, a Saudi manufacturing firm, have awarded the contract amid a visit by Prince Mohammed bin Salman to the UK.
Robin Watson, Wood's chief executive: "We are proud to have been selected to be a contractor with Saudi Aramco and SABIC to deliver this significant greenfield onshore facility that will be a first for Saudi Arabia and among the first in the world to integrate the refinery and chemical process in this way.
"Wood has a strong track record of successful delivery for both customers across their broad project portfolios. We will leverage our diverse capabilities, from design to EPC, to support the evolution of the facility at each phase.
"Our commitment is to combine our ingenuity, global expertise and local knowledge to ensure the safe, successful and timely delivery of this mega-project.
"Our close collaboration with the in-country supply chain and the creation of opportunities to nurture new industry talent in Saudi Arabia, will be central to our execution of this contract."
In November, Saudi Aramo and SABIC signed a deal to bring the mega-project to its next stage of development.
Amin H. Al-Nasser, president and CEO of Saudi Aramco, said: "This is an important milestone in a partnership that we are proud of between Saudi Aramco and Sabic; a partnership that is in line with Saudi Aramco's strategy for business integration, adding value and tackling global growth opportunities in chemicals.
"It is also important to mention that this project will achieve a direct conversion rate from crude oil to chemicals of almost 50%, a globally unprecedented rate. This offers the Kingdom solid opportunities to produce chemicals as a feedstock as part of Saudi Aramco's efforts to maximize return on investments in hydrocarbon resources."
Recommended for you

Westwood Global appoints new hydrogen boss from WoodMac