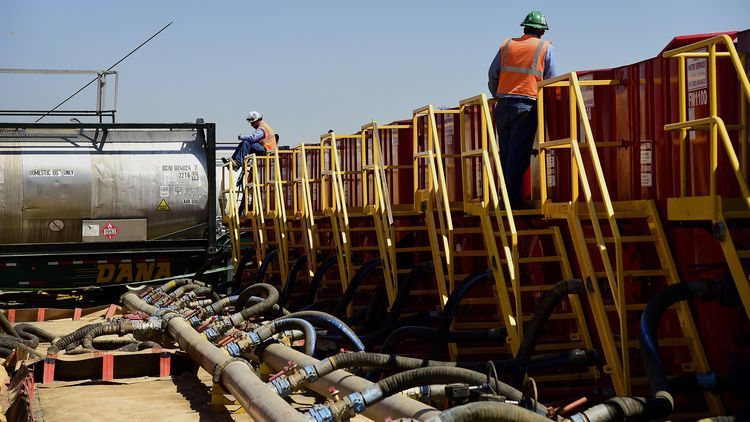 More than 6,000 fracking wells would be needed to produce enough gas to halve the UK estimated imports up to 2035, a report for environmental campaigners has warned.
The figure, equivalent to more than one well drilled and fracked every day for 15 years, aims to quantify the consequences of claims by Government and industry that fracking could reduce the UK's reliance on imports.
The study by Professor Calvin Jones, of Cardiff Business School, found it would take 6,100 wells to produce enough shale gas to replace 50% of expected imports between 2021 and 2035.
If the amount of gas produced per well was at the lower end of the possible range, the number of wells needed could rise to 16,500, the report said.
The estimate is higher than suggestions in an industry report a few years ago that there could be 4,000 fracking wells by the 2030s, and well above predictions in a recently leaked Government document of just 155 by 2025.
Friends of the Earth, which commissioned the study, said it showed fracking could only significantly reduce imports if England's countryside was filled with wells.
Drilling 6,100 wells could require more than 1,000 well pads, covering more than 8,600 acres of land, they warned.
Friends of the Earth campaigner, Rose Dickinson, said: "One well would have to be drilled and fracked every day for 15 years to replace just half of our gas imports.
"This would mean an industrialisation of our countryside at a rate that nobody has yet fully appreciated and would put many more communities in the firing line of this dirty and unwanted industry."
Daniel Carey-Dawes, senior infrastructure campaigner at the Campaign to Protect Rural England, said: "The fracking industry has always been clear that fracked gas would replace what's currently imported, but what wasn't clear was the scale of land take that would involve.
"The many thousands of wells that would be needed, peppered across our precious landscapes, would cause harm to the English countryside on an industrial scale."
Recommended for you

Thailand needs 'shale' gas moment as energy crisis deepens on PTTEP's watch