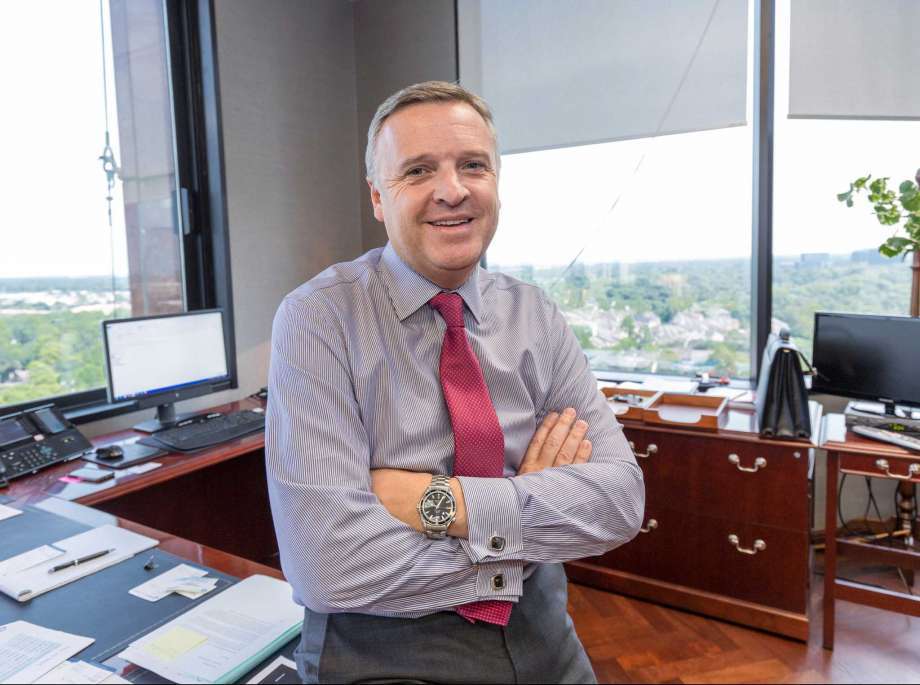 McDermott International has completed its merger with the engineering and construction company CB&I, creating a local company that employs more than 40,000 people and Wall Street values at about $6 billion.
The new McDermott will soon embark on a search for a larger Houston headquarters, planning to leave CB&I's home base in The Woodlands as McDermott Chief Executive David Dickson seeks a hub closer to the Energy Corridor in West Houston. The CB&I name only will remain for the branding of the company's storage tank business.
The merger brings together McDermott and its offshore oil and gas focus, especially in the Middle East, with CB&I's onshore North American strengths, particularly in the refining, petrochemical, power and liquefied natural gas sectors. McDermott investors own 53 percent of the combined company and CB&I shareholders received 47 percent.
Dickson said the goal was to create a diversified, global construction and engineering company with strengths in everything from offshore oil wells to the fuel production and electricity generation. He also sees potential in LNG projects, which are under development worldwide.
"All the arrows are pointing in the right direction," said Dickson, noting oil prices have risen above $70 a barrel, "and we just want to get to working."
The merger process was going smoothly until late April, when a European rival, Subsea 7, publicized a late, hostile bid to buy McDermott for $2 billion under the condition that it cancel the CB&I deal. In a world in which many investors prefer specialized, niche companies, the Subsea 7 offer could have created arguably the world's largest subsea equipment company. If McDermott shareholders believed that was a better deal, it could have killed the CB&I merger. Dickson admitted he was caught off guard.
"We did have a little wobble with a side offer coming in at the eleventh hour," Dickson said. "It created uncertainty for about a week or so, but we got through it."
McDermott wanted to grow through diversification, Dickson said, and not be consumed by a bigger company. Dickson and the McDermott board viewed Subsea 7's $2 billion offer as a low-ball bid, but McDermott didn't try to negotiate and Subsea 7 never raised its offer, Dickson said. Subsea 7, however, increased pressure McDermott by making its bid public.
"That offer did stir up some of what I call our smaller shareholders, but obviously it didn't lead to anything else," Dickson said. "We were surprised with the initial offer; we were surprised when they went public; we were surprised when they reaffirmed it. And then nothing happened after that."
The new McDermott will represent one of the 10 largest players in the global energy engineering and construction sector, said Audun Martinsen, vice president of oilfield service research for Norway-based Rystad Energy, and challenge the biggest competitors like TechnipFMC, which largely operates out of Houston, in some areas.
Both companies have long histories but they, like many firms exposed to the oil and gas sector, have struggled in recent years. Dickson came to McDermott five years ago, first cutting jobs and layers of management before leading the company back to profitability with growth in countries like Saudi Arabia. CB&I, however, has continued to struggle, cutting some 30,000 jobs over the past four years after peaking at 56,000 workers in 2014 when it acquired the Baton Rouge company, Shaw Group.
After, after reporting a net loss of nearly $1.5 billion in 2017, CB&I reported a small $44 million profit in the first three months of the year.
"You have a lot of employees who are very humble they've had to go through some challenging experiences," Dickson said. "There's no arrogance and, today, both companies are highly motivated to really move forward and get it right."
A native of Scotland, Dickson noted he's been based out of the Energy Corridor throughout his 16 years working in Houston, so he's admittedly biased toward that part of town as McDermott looks for a new headquarters. But he insisted he'll keep an open mind. McDermott is moving back into its existing Energy Corridor headquarters this month after it was damaged by Hurricane Harvey. However, Dickson said, that will only serve as an interim home because it's no longer large enough to accommodate the merged company. McDermott counted close to 500 Houston workers while CB&I has more than 2,000 in the region.
Dickson did rule out building a new campus from scratch, arguing that it's a good time to lease in the Houston real estate market after many spaces were vacated during the recent oil bust.
This article first appeared on the Houston Chronicle – an Energy Voice content partner. For more from the Houston Chronicle click here.