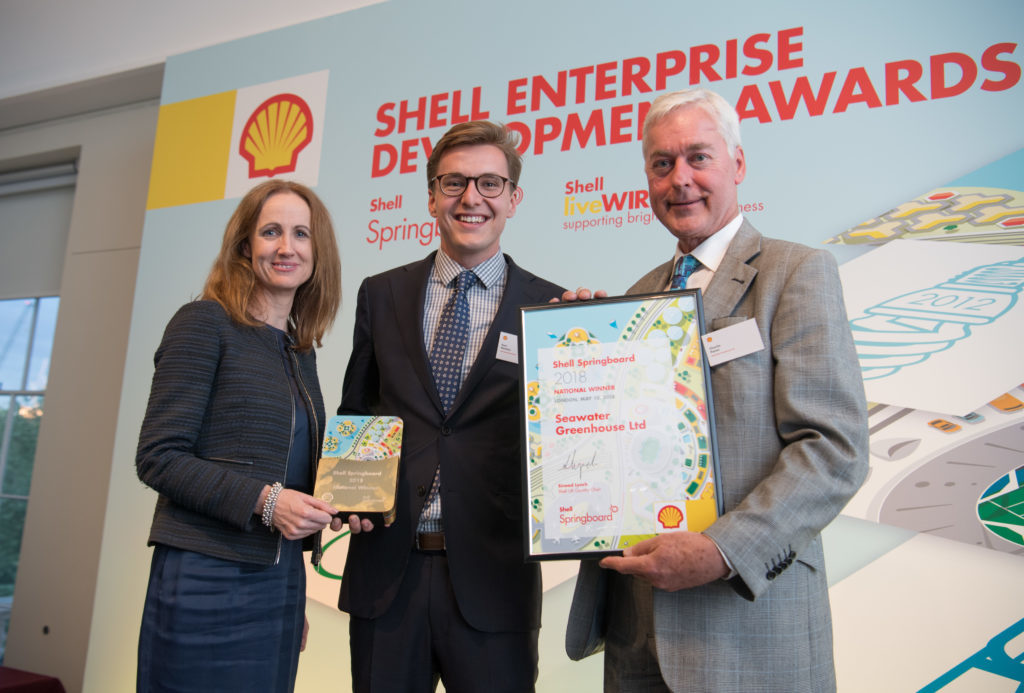 Two UK low-carbon entrepreneurs have clinched Shell Springboard and Shell LiveWIRE awards.
Seawater Greenhouse and MiAlgae each beat more than 100 applicants to win the prestigious awards at the Royal Academy of Engineering.
The two companies were awarded a share of £180,000 no-strings funding to scale-up their respective businesses.
Seawater Greenhouse will receive most of the funding, £150,000, to support its "cool house" technology that aids the growth of crops in arid coastal environments around the world.
Edinburgh-based Douglas Martin from MiAlgae was awarded a total of £30,000 as the Shell LiveWIRE Young Entrepreneur of the Year.
The 30,000 awarded to MiAlgae will help develop its product which uses circular economy principles to produce omega-3 oils from the by-products of the whisky industry.
Shell UK chairwoman Sinead Lynch said: "Seawater Greenhouse and MiAlgae are two of Britain's brightest, most promising innovations to support a more sustainable, low-carbon world.
"Around 90% of all businesses in the UK's low-carbon sector are SMEs and providing equity-free funding through Shell LiveWIRE and Shell Springboard can be the difference between make or break for some of these companies."
Charlie Paton, director of Seawater Greenhouse, said: "We are thrilled to be selected as the Shell Springboard winner! It is a huge achievement and a key milestone in Seawater Greenhouse's development. The £150,000 prize is fantastic and will allow us to take the next steps in developing our business. Being involved in the Shell Springboard programme has been an amazing experience – each stage has been challenging and really helped us refine our business idea. We would like to thank the judges for selecting us."
Douglas Martin, founder and managing director of MiAlgae, said: "Being named as the Shell LiveWIRE Young Entrepreneur of the Year is such an exciting moment for MiAlgae. The £30,000 comes at a crucial moment and will allow us to further develop our technology and reach our goal of getting MiAlgae to commercial scale."