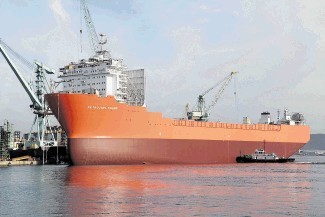 A strike curtailed oil production off Norway for the first time in six years as Royal Dutch Shell Plc shut a North Sea field and workers threatened to escalate labor action at the weekend.
Shell was forced to shut down its Knarr field, which produced about 23,000 barrels a day of oil and 3,500 barrels of natural-gas liquids a day in April, according to the latest available public figures. An escalation of the conflict would probably lead to other outages, according to the group representing employers.
It's the first time since 2012 that a strike in Norway's oil and gas industry, the country's main earner, has affected output. Back then, the government stepped in to force an end to the action after 16 days, citing strategic national interests. Norway is western Europe's biggest petroleum producer, and supplies about a quarter of the European Union's natural gas, surpassed only by Russia.
The strike comes at a time when oil output is already curbed in key producing countries from Canada to Libya, and impending sanctions on Iran raise the prospect of a global supply crunch. Benchmark Brent crude rose as much as 1.8 percent to $79.51 a barrel on Tuesday.
Production Vessel
A total of 669 drilling workers walked off the job on Tuesday when state-backed mediation failed to produce an agreement on wages and pensions, affecting nine mobile units and fixed production installations.
The workers are employed by companies including Transocean Ltd., Odfjell Drilling Ltd. and Teekay Petrojarl ASA, which runs the production ship at Knarr. The walkout has also affected the Snorre B platform operated by Equinor ASA, Norway's biggest oil producer, but output is so far normal. The company doesn't "wish to speculate" about production should the strike escalate, spokesman Eskil Pedersen said.
The impact of the labor action is centered on production and exploration drilling by mobile rigs, where operations will be halted and postponed. Following are the companies and installations affected by the strike so far:
Company Installation Type Number of workers Archer Snorre B Fixed platform 40 COSL COSL Innovator Mobile rig 67 Island Offshore Island Wellserver Ship 50 KCA Deutag Askeladden Mobile rig 59 North Atlantic Drilling West Elara Mobile rig 60 Odfjell Drilling Deepsea Stavanger Mobile rig 71 Songa Offshore Songa Enabler Mobile rig 80 Teekay Petrojarl Petrojarl Knarr Production vessel 106 Transocean Transocean Spitsbergen Mobile rig 117 ESS COSL Innovator and Askeladden Mobile rigs 10 Sodexo West Elara Mobile rig 9
The Norwegian Shipowners' Association, representing employers, called the union's demands "completely unreasonable." The disruption is "precisely what contributes to raising doubt about the reliability" of Norway as an oil and gas supplier, the group's head negotiator, Jakob Korsgaard, said in an interview.
The union, called SAFE, warned that it will take a further 901 workers off the job on Sunday, affecting installations on fields including Ekofisk, Statfjord, Valhall and Snorre.
No additional talks are planned between the parties for the time being, SAFE deputy leader Roy Aleksandersen said by phone. The employers want a deal, but have "limited leeway," Korsgaard said.
Norway's biggest oil union, Industry Energy, reached a deal with the Shipowners' Association on drillers' wages in May, while a smaller union called DSO reconciled its differences in mediation in June.
The U.K. part of the North Sea could also see outages later this month due to strikes.
A union announced last week it would shut down production on three Total SA-operated platforms in a dispute over pay and working hours. The first of five 12-hour and 24-hour stoppages is scheduled to begin on July 23.
Total is confident it can find a "negotiated solution," Jean-Luc Guiziou, managing director of the company's U.K. exploration and production unit, said in a statement. If strikes go ahead, 25,000 to 35,000 barrels a day of crude oil will be taken offline, according to data from the U.K. Oil & Gas Authority.
Recommended for you

Shell gets UK tax refund, but pays over $1billion in nearby Norway