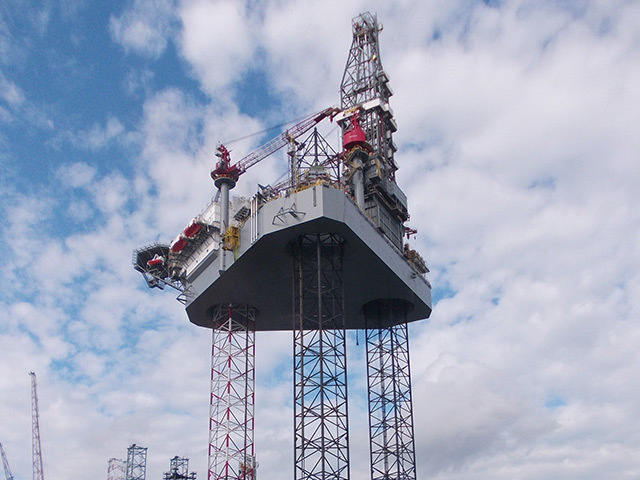 UK-based offshore driller Ensco has entered an agreement to buy smaller rival Rowan to create an "industry-leading" drilling firm.
The combined company will have an estimated value of £9.2billion once the merger is completed, which is due to be in the first half of next year.
In a joint announcement, Rowan and Ensco said the new entity will have "unparalleled" geographic coverage, with a fleet of 82 rigs covering six continents.
The deal is worth an estimated £1.7billion.
Current Rowan president and CEO Tom Burke will continue to serve in those roles for the new firm, which will be based in the UK, while Ensco CEO Carl Trowell will be executive chairman.
The all-stock transaction will see Rowan shareholders receive 2.215 Ensco shares for each Rowan share.
Upon completion, Ensco shareholders will own 60.5% of the company, with 39.5% owned by Rowan shareholders.
The new firm is expected to produce £115million of annual expense savings.
It will have a combined fleet of 28 floaters and 54 jack-up rigs operating in almost every major deep and shallow-water basin around the world including the North Sea and Gulf of Mexico.
Ensco shareholders will also get exposure to ARO Drilling, Rowan's joint venture with Saudi Aramco.
Rowan's Tom Burke said: "We are excited to reach an agreement to combine our well-respected organizations, enabling both Rowan and Ensco shareholders to participate in the substantial value creation opportunities of a larger, more technologically-advanced and diverse offshore drilling company.
"By merging our high-quality rig fleets and infrastructure covering the world's most prolific offshore basins, we increase our scale while maintaining a shared focus on high-specification assets that will include ultra-deepwater drillships and versatile semisubmersibles, as well as harsh environment and modern jack-ups.
"The combined entity's talented workforce, unrivaled geographic and customer diversification, and solid financial position ideally position us to meet increasing customer demand for the most technologically-advanced drilling rigs as the offshore sector recovers."
In its latest fleet update earlier this year, Rowan said it had four jack-up rigs in the UK North Sea, three of which were operating for Shell, Total and Chrysaor.
Meanwhile Ensco said it had eight UK-based jack-ups working for a variety of operators including ConocoPhillips, Premier Oil and Neptune Energy.
On the new deal, Ensco's Carl Trowell said: "The combination of Ensco and Rowan will create an industry leader in offshore drilling across all water depths, with significant advantages to capitalize on future opportunities and better serve our customers.
"Ensco and Rowan share a common culture built around safety and operational excellence, innovation, technical expertise and customer satisfaction."
Recommended for you

Adnoc Drilling buys three more jack-ups