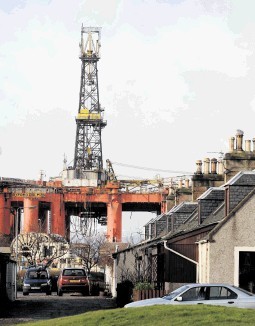 UK CONTINENTAL Shelf (UKCS) drilling activity has increased by just one well in the last month.
Nine mobile rigs – four semi-submersibles, four jack-ups and one drillship – are active.
So far this year, 15 wells have spudded and a further seven sidetracks have been started, bringing the tally to 22 wells. They equate to six exploration spuds and a sidetrack and nine appraisal spuds plus six sidetracks.
Some 23 production and development wells are active, excluding workovers, but inclusive of batch drilling programmes such as that ongoing at the Huntington (Palaeocene) field. Half of development wells are being drilled using mobile units.
West of Shetland, four mobile units are active, double last month. Chevron abandoned well 217/15-1Z after 156 days of sidetracking (267 days in total), before the Stena Carron drillship moved to spud Cambo appraisal, well 204/10a-4, on June 29.
At Clair Ridge, BP continues operations on south-west Clair field appraisal well 206/12a-3, which was spudded on June 9 by the rig Byford Dolphin.
A few miles to the north-east, and on trend with Clair, Faroe Petroleum began its first operated UKCS drilling programme on July 7, with the spudding of well 206/5a-3 on the Fulla prospect, also targeting Clair sands and employing Awilco's semi-submersible WilPhoenix.
Total has re-entered its Edradour discovery, well 206/4-2, which was suspended on December 22, 2010, to conduct a drill-stem test (DST).
In the Northern North Sea, Sedco 714 completed abandonment operations on Total's Oban prospect, well 3/15a-14, following a DST conducted during a lengthy stay at total depth.
Nautical has started further appraisal drilling on Kraken with the spudding of well 9/2b-5 on July 6. The programme, utilising the second of two Awilco rigs, the WilHunter, the former Transocean Arctic IV, includes an initial pilot hole to be followed by a horizontal sidetrack. The well is aimed at proving commerciality at Kraken and, if successful, will be completed for future production.
Just two rigs are active on exploration and appraisal duties in the Central North Sea. Both are long-running HP/HT (high pressure/high temperature) operations. Maersk's second geological sidetrack, well 22/25a-10Y, on the Culzean accumulation, remains ongoing using the jack-up Ensco 101, which has been on location since June 2010, while BG's Jackdaw appraisal, well 30/2a-8, with jack-up Gorilla VI, will reach its first anniversary on location early in August.
Maersk's Courageous appraisal, well 30/2a-9Z, drilled by the Noble Ton van Langeveld semi, was 32 days in sidetrack, including 26 days at total depth. A test of the Palaeocene reservoir to establish flow rates would be no surprise. The rig moved a short distance to start development drilling duties on the Janice Field.
Nexen's Hobby North appraisal, 14/26a-9, using the Transocean Prospect, was abandoned on July 21 after 35 days. No geological sidetrack ensued. Hobby North remains "tighthole", with nothing being disclosed.
Activity in the Southern North Sea has doubled – to two wells – since the last report.
The Ensco 80 jack-up continues operations on Tullow's 44/19b-7A well on the Carboniferous Cameron prospect, while E.On has spudded well 42/28d-12 on the Rotliegendes Tolmount prospect in what amounts to a third attempt (initially by Dana) to drill the former Scolty prospect.
Rig problems scuppered Dana's operation while drilling issues in the Jurassic impacted E.On's subsequent attempt. The current well is located to avoid the challenging horizon.
The first half of 2011, from an exploration and appraisal drilling perspective, was woefully poor, yet in the last month there have been four new spuds.
With four drilling units, the West of Shetland arena is now the most active sector in the UK from an exploration and appraisal perspective.
It can be a fool's venture predicting the oil price, and in the current environment suggesting how exploration and appraisal activity levels might look in the UK sector come the end of 2011 is equally risky.
That said, perhaps 15-20 exploration and appraisal wells may be started in the second half, if a variety of indicators and not solely DECC PON notifications are anything to go by.
If it happens, this would mark a partial recovery in UK activity.
o Simon Robertshaw's column is courtesy of North Sea drilling analysts Hannon Westwood
Recommended for you

UK well slot: Orlov awaits after Edinburgh dud