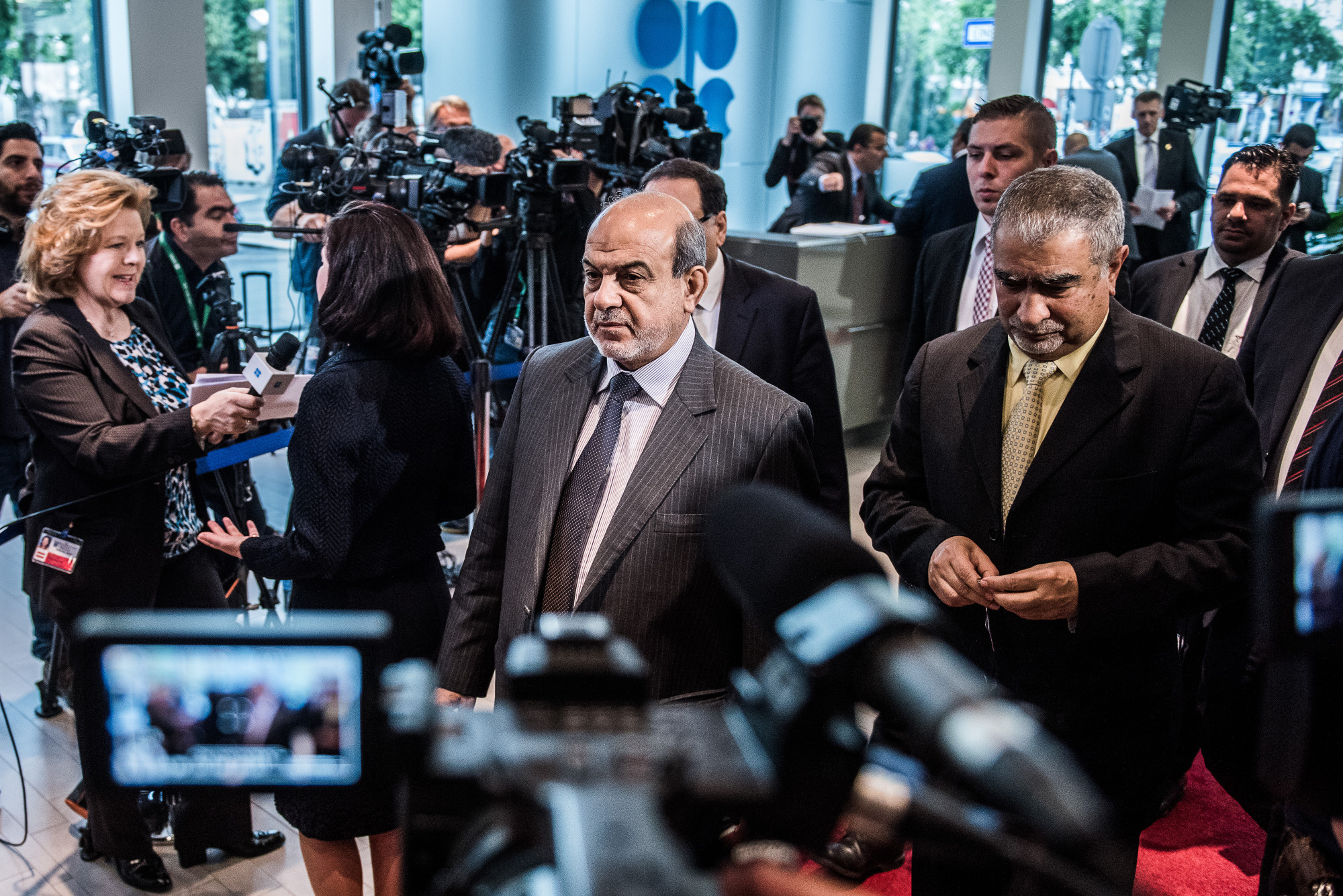 The biggest snag in OPEC's push for a consensus on cutting oil output could come from relentless growth in supply from its second-biggest producer.
Iraq has boosted production by about 6 percent this year and promises more to come. It resumed pumping crude for export by pipeline from northern fields this month and is expanding capacity to produce at its main deposits in the south. Iraqi output could reach 6 million barrels a day by 2025, according to consultant Wood Mackenzie Ltd.
Saudi Arabia led suppliers to cut production two years ago to curb a glut, then reversed course in June on concerns that U.S. sanctions on Iran could create a shortage. With fears of a scarcity now giving way to worries about oversupply, the Organization of Petroleum Exporting Countries and allies such as Russia are preparing to discuss more cuts when they meet next week in Vienna. Iraq, which objected to output limits in 2016, may dig in its heels again.
"Iraq has been increasing production, but not to the extent that Saudi Arabia has done. Now the Saudis are seeking a very broad agreement where everyone accepts some cuts," said Olivier Jakob, managing director at consultant Petromatrix GmbH in Zug, Switzerland. Baghdad would have a hard time joining other producers in trimming output, he said. "Iraq needs the revenue."
Iraq is still struggling to overcome the legacy of warfare and sanctions, 15 years after a U.S.-led coalition overthrew dictator Saddam Hussein. In its northern region, the nation is also seeking to repair oil pipelines and facilities damaged in the more recent conflict with Islamic State militants. Its citizens continue to endure power outages and inadequate access to clean water.
Kurdish Dispute
To maximize revenue, the government pumped a record 4.69 million barrels a day in October. Exports in August and September reached the highest levels since 2016 on robust production in the south, even as a pay dispute with the semi-autonomous Kurdish region curtailed shipments from the north.
"Iraq will probably say the right things regarding the OPEC meeting, about constraining or reducing output or even just 'expressing support' for new output cuts," said Michael Barry, director of research at consultant FGE in London. Then, after a period, Iraq "will likely keep raising output quietly," he said.
FGE estimates that Iraq could pump as much as 4.7 million barrels a day next year — depending on what OPEC and other producers decide at their Dec. 6 meeting — compared with about 4.5 million in November.
Iraq will work with OPEC and other partners to stabilize oil markets and isn't concerned about further declines in crude prices, Fayyad Al-Nima, deputy oil minister for refining affairs, said on Nov. 21.
U.S. Pressure
Saudi Arabia, OPEC's largest producer, is confident the group and its allies can reach a resolution to stabilize the oil market at their meeting next week, the kingdom's Energy Minister Khalid Al-Falih said on Wednesday. Saudi Arabia is pumping as much as 11.2 million barrels a day, though it has said it supports a drop in output and has pledged to reduce monthly exports by 500,000 barrels a day in December.
The U.S., which is been pumping shale oil at a record rate, has been leaning on Iraq to resume production at northern fields around the city of Kirkuk and to resolve its oil-revenue disputes with the Kurdish administration.
Iraq resumed pumping crude this month on a test basis through a Kurdish-controlled pipeline to Turkey, according to an oil ministry spokesman. Iraq's state oil marketer received about 600,000 barrels of crude at storage tanks it uses in Turkey, according to agents at the port of Ceyhan where the tanks are located.
Like Iraq, OPEC members Libya and Nigeria are trying to restore production after years of internal conflict. They've been exempt from the group's cuts agreement and are unlikely to welcome a decision to include them in any new cuts, Petromatrix's Jakob said.
Saudi Arabia's Al-Falih visited Nigeria this week and Baghdad earlier in November. "He's been visiting the countries that need convincing" of the need to cut, Jakob said.
Recommended for you
X

Oil market hinges on Saudi dilemma: Bust budget or anger Trump?