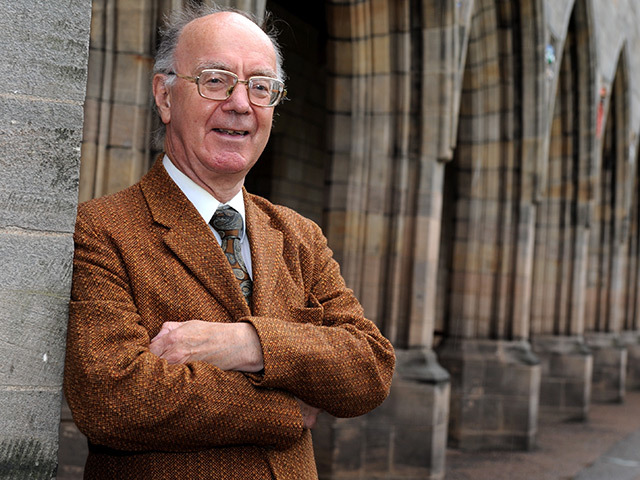 A backstop could be placed on the recent oil price freefall if traders are convinced OPEC proposals to cut production are "for real", according to a leading petroleum economist.
The cartel has tentatively agreed a cut, which will range between 0.5 and 1.5million barrels per day, however the actual scale of it will depend on the outcome of discussions with Russia today.
OPEC (The Organisation of Petroleum Exporting Countries) has been under pressure to curb production, with the price of the Brent crude benchmark dropping more than $10 in the last month.
De-facto leader Saudi Arabia said a 1million barrel drop would be acceptable.
Petroleum economist from Aberdeen University, Alex Kemp, believes a drop in global production within that range will facilitate a "rebound" in the oil price.
He said: "A cut between 1million and 1.5million barrels per day would have an effect on the price if the market makers were satisfied that they were actually going to do it.
"If there's some reassuring noises from Russia that they will contribute to it, that would show it is a serious proposition.
"There would be some rebound in the price if the market makers were satisfied that this is for real. It could come up by a few dollars."
OPEC is meeting in Vienna and will continue talks tomorrow along with Russia and other non-members.
Professor Kemp believes the country "may well be willing" to assist, however the scale of the cut remains to be seen.
Analysts have said the 1million barrel figure would be a "token gesture" as the kingdom aims to balance conflicting motives of propping up prices and appeasing the US.
President Donald Trump wants even higher oil production to offset lower production from Iran, OPEC's third largest producer, due to US-imposed sanctions.
Jack Allardyce, analyst at financial services firm Cantor Fitzgerald said: "As ever with OPEC and the wider producer group, the devil will be in the detail in terms of overall scale, reference point and quotas.
"The one million barrels being suggested feels like something of a token gesture and is perhaps suggestive of the pressure being piled on Saudi Arabia by President Trump and the apparent reluctance of Russia to take more drastic measures."
"TOKEN GESTURE"
The proposed production cut may only act as an "interim support" for the market, according to analysts.
Saudi Arabia's energy minister said a 1million barrel daily cut could be enough to stabilise prices, however this may not make a meaningful difference for some time.
Investors had expected a cut of round 1.3million barrels per day, sending the price of Brent crude down five percent after the comment, however the actual scale of the cuts have not yet been agreed.
Jack Allardyce from Cantor Fitzgerald thinks the market will need to wait and see what effect it will have.
He said: "While an agreement to cut at least 1mmbopd should go some way towards arresting the freefall in benchmarks, we wouldn't expect any significant short-term recovery until there is further evidence that such a deal is beginning to eat into the current supply glut."
The US could extend its production next year, while the full effects of Iranian sanctions remain to be see, according to Mihir Kapadia, CEO of Sun Global Investments, with both issues playing a part in the oil price.
He said: "OPEC's announcement that it has agreed to cut oil output should be considered a sensible move in what has been a very volatile market this calendar year. As prices have fallen sharply in a short period of time and as the US increased production, OPEC was under pressure to do act on it.
"With OPEC now affirming to continue the production cutback strategy, there should be some short -term support to the failing prices.
"Oil prices over the last two months have crashed around 30%, directly impacting oil led economies like Saudi Arabia.
"While this is a much needed announcement, it can only act as an interim support for the market as much depends on the US production output and the situation that will prevail once the eight wavier countries cease Iranian imports."
RUSSIA
Talks with Russia today are expected to determine the scale of production cuts, but the nation "will not be keen" to scale back too much, according to an analyst.
Russia is among the largest producing countries in the world, with oil a key source of revenue.
Last weekend President Vladmir Putin met with Saudi Crown Prince Mohammed bin Salman, laying the groundwork for a Russian cut in production.
However Fiona Cincotta, senior market analyst at City Index, doesn't think the country will want to drop its output too steeply.
She said: "While in theory OPEC members will aim for a significant cut, the US has been calling for lower oil prices, with President Trump specifically addressing his comments at Saudi Arabia.
Similarly, Russia will not be keen to scale back too much as oil is a key source of its revenue, particularly at a time when it still faces partial US sanctions.
"Russia and the US have both increased their production over the last year, Russia to a post-Soviet high of around 11.4 million barrels a day and the US to 11.47 million with the capacity to go beyond 12 million next year.
"This means that the US could build on its lead position as the world's largest oil producer ahead of Russia and Saudi Arabia, giving the two countries less of a reason to scale back output. At this stage, 1million barrels a day cut could be all that the market will get."
Recommended for you

Omicron could cut oil demand almost 3 million bpd in early 2022, says Rystad