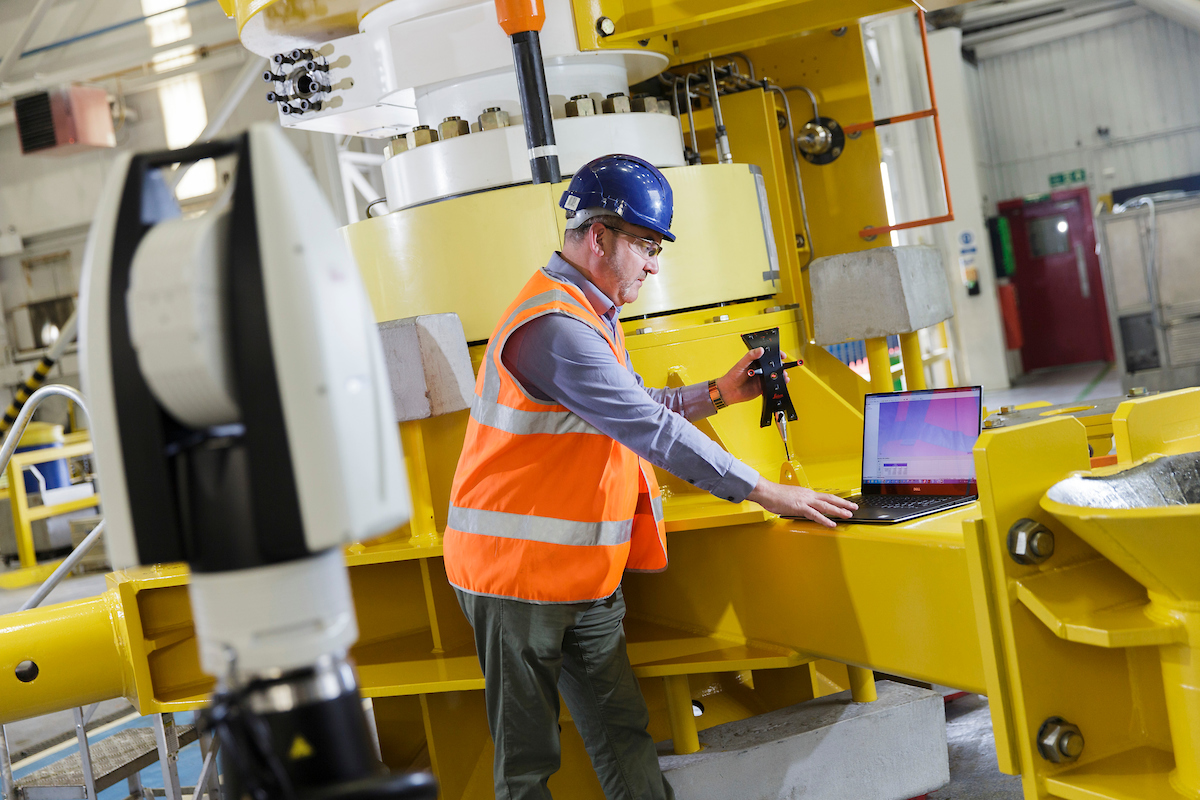 Setting up shop away from traditional industrial centres can help companies bridge the talent gap during an upcycle, an oil industry chief has said.
Neil Saunders, president and chief executive of oilfield equipment at Baker Hughes, a GE company (BHGE), said trying to attract people in places like Aberdeen, Houston and Singapore was challenging because of the increased competition.
Mr Saunders conceded that recruiting people was "tough", not helped by the oil and gas industry's "image problem".
But he stressed that companies had to avoid the temptation to recruit "armies" of people and over-engineer new projects.
Mr Saunders said the most important thing for the subsea sector was to remain competitive.
That will also mean keeping a lid on inflation, but with commodity prices going up, equipment makers will have to pass some costs on to customers.
The "impending skills shortage" is one of the oil and gas industry's hot topics, at present.
Two-fifths of respondents to a poll by DNV GL warned skills shortages and an ageing workforce would be a barrier to growth.
Nearly half of oil and gas professionals who took part in the Global Energy Talent Index said they were worried about an "impending talent emergency".
Two fifths feel the sector is already in the grip of a crisis, with a further 28% expecting the problem to hit home within the next five years.
Bosses from engineering consultancies Apollo and Xodus told EV last month that the problem was real, and that more choice for prospective employees meant recruitment was a challenge.
They said the decision to lay off graduates in 2014-15 – people who would now have five years' experience – was coming back to bite the sector.
Speaking at the BHGE annual conference in Florence, Mr Saunders said: "We are looking to recruit in a few strategic areas for sure. Is that proving to be tough? Yes, it is.
"There is some suspicion around our segment of oil and gas in terms of its volatility and its attractiveness.
"It's something the whole segment suffers with. That is something we're very aware of and are trying to work on.
"It's not only the volatility. We potentially have an image problem in terms of oil and gas being perceived as a 'dirty' industry.
"We're trying to make working in our space much more attractive.
"Our company offers opportunities to work across a raft of diverse product lines, which can address some of that volatility.
"For Aberdeen and throughout the UK you'll see us try to influence and make industry more attractive.
"The overriding thing – when starting to deliver a project – we need to avoid temptation to go and recruit armies of people to customise and engineer our way through projects that should fundamentally be a lot more structured and simple and a lot more standardised. That's a challenge."
Mr Saunders said the decision to establish a "project hub" alongside its subsea controls base in Bristol had been successful in terms of recruiting and retaining talent when market conditions improve.
He expects the launch of BHGE's £31 million centre of excellence for subsea technology in Montrose to bring similar benefits.
Companies which only have a presence in "hubs" like Aberdeen, Houston and Singapore will always find cycles harder to deal with "from a people perspective", he warned.
"During a growth cycle, trying to get people in a location like Aberdeen can be very difficult," Mr Saunders said.
"If you're in a hub, employees have more choice. You quickly get into a situation where you're having to grow and everybody is having to grow and there simply isn't enough expertise to go around in those traditional hubs.
"If you move away from those hubs and are adept at converting people to join the industry, you should be able to attract and retain.
"The challenge is to convert them and train them, then during a downturn you should be able to smooth those cycles out and make those peaks a lot lower, and we have found that.
"As a strong employer away from a traditional oilfield hub, when things start to pick up you don't get the same level of attrition you would expect.
"Montrose is a nice example of a place where people choose to live and they're just as loyal to the location as they are to the business they work for.
"We've had fabulous retention from them and long may that continue.
"That was one of our reasons for making the investment there."
Mr Saunders also said BHGE was making a "very big push" on diversity and inclusion.
He feels the firm's percentages are "OK", but should be better.
In its first gender pay gap report, published in November 2017, men at BHGE were earning about a fifth more than women, and earned 30% more in bonuses.
BHGE said it would contribute to Balance the Equation, GE's goal of having 20,000 women filling STEM roles at GE by 2020, adopt GE's employee programmes that make it easier for women and working parents to balance their careers and families.
The company also has a diversity council and advocates focusing on retention, exposure and promotions.
On the subject of rates charged by the supply chain, another thorny topic, Mr Saunders said oilfield service firms were also exposed to commodity price inflation, and couldn't shoulder the burden alone.
Mr Saunders said: "We're definitely seeing some inflation in the market.
"If you look at our equipment you can see that we're buying steel and special metals.
"Then you can look at those commodity markets and see the inflation. That's real and that's public.
"To the extent that we pass that on to our customers – you have to expect that we're going to have to do that.
"It would be unreasonable to expect our client base not to understand that.
"All of our financial results are in the public domain, so I think our customers can judge the extent to which any of us have room to soak up material inflation.
"We're all already very squeezed so the important part for us as a sector is to make sure subsea remains competitive.
"Us escalating our pricing is not particularly good discipline, so we need to be allowed to go and find productivity.
"That might mean a customer has to make further compromises on product selection and functionality to allow us to be able to do that.
"If commodities are moving you can look at us and our competition and see we don't have enough room to soak that up, so that has to happen.
"But we understand we can't expect to price ourselves out and make projects uneconomic. That wouldn't be smart."
Recommended for you
X

An emotional farewell to Beatrice