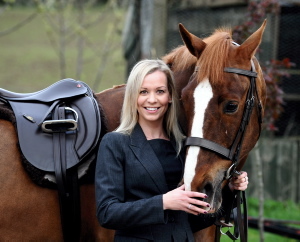 The global expansion strategy of oil and gas service company qedi led to the recent appointment of Sally Hayles as business-development director.
The Aberdeen-based firm was established to provide engineering and support services to the oil and gas industry two decades ago.
It has enjoyed rapid growth since managing director Stuart McLeod joined in 2004 and it developed web-based technology to provide completion and commissioning management systems.
The company – which takes its name from the Latin quod erat demonstrandum (what was to be demonstrated) – was acquired by international engineering and project-management company Amec earlier this year for up to £33million, but will continue to operate independently.
It has offices worldwide and employs 350 people.
The power of Amec will enable qedi to continue its expansion and Ms Hayles is looking forward to her key role in that.
The 34-year-old said: "Amec has offices in Australia, which qedi doesn't,
Sally Hayles Q & A:
What car do you drive? A 4×4 to tow a horsebox.
What's your favourite restaurant? Siller, in Puerto Pollensa, a traditional Majorcan restaurant.
What's your favourite place to go on holiday? Australia and Majorca.
Have you ever broken the law? Not recently or intentionally, or ever been caught.
What or who makes you laugh? My partner Matthew and my friends.
What's your favourite book? I have an obsession with the Shopaholic books by Sophie Kinsella.
What's your favourite film? Breakfast at Tiffany's.
What's your favourite singer/band? I have a really diverse taste in music.
When you were young, what career did you fancy? I always wanted to be a flat-race jockey, ever since my parents started taking me to York races aged four.
What's your ideal job, other than this one? I would love to be a top three-day eventer.
What's the best piece of business advice you have received? Nothing is impossible; it's just the degree of difficulty.
Worst business advice? Being told that you can only be one type of sales person. I firmly believe in the ability to be a chameleon to suit the situation.
What do you drink? Sparkling or red wine.
How much was your first pay packet and what was it for? It was for helping out as a groom aged about 12.
How do you keep fit? I ride every day.
What's your biggest extravagance? Horses and diamonds.
With which historical or fictional character do you most identify? Velvet Brown from National Velvet starring Elizabeth Taylor.
If you had £1million to give away, what would you do with it? I would ensure it was spent on local projects such as Riding for the Disabled. It's amazing the difference even a small amount of money can make for local charities.
and that is going to be a key region for us. We have already started on a project on the east coast of Australia with QGC, a British gas company.
"We will also be focusing on the Caspian where we have a really good track record, plus North America where there are some good opportunities in the oil sands in Canada.
"We have global master service agreements with BP and Shell which I shall be working on to maximise the benefits and we are continuing to work with new clients in Europe. There is nothing stopping us from growing in all areas of the world and we can also step out into other industries.
"Our Go technology can be adapted to any industry: nuclear, power and plant, construction, mining.
"The system checks every single piece of equipment has been tested, and provides certificates to prove these pieces of equipment have met the standards.
"Because it is web-based you can sit in Aberdeen and run a report across yards in Hartlepool, Korea, Stavanger, anywhere in the world, and see the status of a project.
"When it comes to decommissioning, we basically do the process in reverse; checking that every system has been flushed, purged, leak tested, etc to allow safe disconnection."
She said that expanding into other industries was one of qedi's strategic aims, adding: "We can work with Amec on that because they have the nuclear side of the business, they have the power and plants side and they have the mining.
"We have already had a considerable number of internal inquiries from other Amec Group companies wanting to know more about us and how we can work with them. There will be significant travel in the role but it is dependent on the business needs; Australia, North America and throughout Europe, wherever the business requires.
"The majority of our clients have viewed the acquisition by Amec as extremely positive because they can see us retaining our independence but pulling on Amec resources as and when required."
Ms Hayles's sporting and leisure activities also require considerable travel, but mainly in a recently-acquired horsebox.
Her dedication to her career is matched by her passion for horses, although her ambitions to be a flat-race jockey went out the window when she grew to 5ft 4in.
"I have been horse mad since my mum and dad started taking me to York races when I was four. I used to build show jumps in our back garden with bushes and washing lines and make the dogs jump them, pretending they were ponies.
"Mum and dad set me a target. They said I had to get all my stable management qualifications before I was allowed my own pony, thinking I would maybe be 13 or 14 by then, but I did it all by the time I was 10.
"I think that set me for my business life as well up because when people say to me: 'If you achieve this, you will get that' I always feel I have to achieve it really quickly so I can move to the next thing."
Having won her first riding competition aged 10, Ms Hayles went on to enjoy success at all the big agricultural shows across Scotland until finally the pressure of schoolwork forced her to put her hobby on the back burner.
The former Bridge of Don Academy pupil went on to achieve an honours degree in public policy and management from Robert Gordon University.
She started her working life with Atlantic Telecom, moving to Accenture and then Atlas Interactive where she rose from business-development executive to vice-president of global sales before joining qedi.
It was while there that she had a brush with death which made her appreciate life and the importance of an interest outside work and she returned to her horses.
Complications after a wisdom tooth removal led to abscesses in her throat which closed her windpipe, she suffered septic shock and her throat had to be cut in an emergency life-saving operation. She said: "If they had delayed taking me into hospital, I would have passed away."
She survived and only two months later ran the Balmoral 10K, but it was almost a year before she fully recovered.
She said: "I had been working 12 hours a day and at weekends and in many ways I was stuck in the trap of 'living to work'.
"I got a horse which helped me re-address the balance between work and life and is a fantastic stress reliever."
Sally bought a three-year-old horse from Balhagarty stud, at Laurencekirk, where many top competition horses have been bred. Raffles – or Balhagarty Kindred Spirit to give him his Sunday name – is shaping up nicely and with a brother eventing in Italy he has the bloodline to do something special.
Ms Hayles said: "The original plan was to just do some small competitions now and then, however, Raffles has proved to be a bit of a star and my competitive nature is coming through.
"Looking ahead to this summer, I pretty much have a show every weekend and I'm again starting to travel throughout the country and I've even bought a horsebox for the overnight stays.
"I would love to win the Working Hunter at the Royal Highland Show and qualify for Horse of the Year Show especially because Raffles' brother, Glenmorangie, came second in 2007."
Holidays and weekends away are also important for the life-work balance because they allow her and partner Matthew Finnie, a director of Finnie's the Jewellers, to escape the rigours of business life.
"Matthew is now coming to terms with having a horse," she said, "and he is learning the lingo."
Recommended for you

Back after four years, trust the ONS conference to go the extra mile