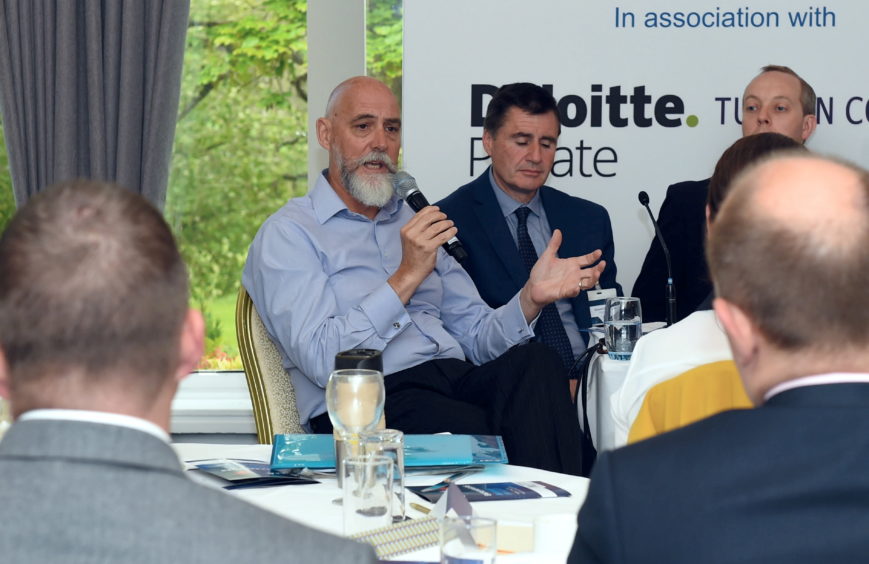 All successful entrepreneurs have a knack of surrounding themselves with the "right people", business experts said at an event near Aberdeen yesterday.
James McCallum, co-founder of energy service group Senergy, bought by Lloyd's Register in 2013, said everything he achieved in business was thanks to "collaboration with people from all walks of life".
Mr McCallum said he had the "luck and honour" to work with talented people, and that he "always valued" being in teams where honesty was "ever present".
Passion and persistence are also key ingredients to becoming a success, he told the audience at The Press and Journal's business briefing on entrepreneurship at the Mercure Ardoe House Hotel.
Panellist Graeme Sheils, a senior audit and assurance partner in the Aberdeen office of Deloitte, said tenacity, passion, resilience and good instincts were vital traits in the make-up of an entrepreneur. They also need to avoid "yes men".
Mr Sheils added: "The entrepreneurs who do well surround themselves with good people who provide an honest sounding board and have complementary skills.
"All entrepreneurs are risk-takers, but they have to be calculated risk-takers. The job of an advisor or CFO (chief financial officer) is about separating the good ideas from the dodgy ones."
Colin Welsh, international partner at US-based SCF Partners, said the successful entrepreneurs he knew were "dogged, high energy, driven and incredibly bright, with big egos".
Mr Welsh stressed the importance of making "smart decisions about who to work with and when to sell the business".
Turcan Connell partner Paul Macaulay said it was "never too early" to exit a business.
"As soon as you have something of value, you have something that someone might be interested in buying," Mr Macaulay added.
NovaBiotics founder and chief executive Deborah O'Neil, said collaboration was needed to start a business in the life sciences sector, adding: "We do not talk about innovation, because in our sector we live and breathe it. It's what we do every day."
DRAGONS
James McCallum said The UK energy sector must work with "dragons" to protect itself from more severe oil downturns.
Mr McCallum said industries and governments complacently thought growth in Chinese energy demand would continue to "fuel the oil price party".
Instead, the Asian powerhouse had "embraced its own revolution" and invested heavily in its own energy generation capacity.
He added: "Very few of us went to China to see what was happening. We joked about Chinese technology. We knew so little and many still do.
"We chose to remain ignorant of the fact that the dragon was not asleep, but was wide awake licking its lips and hungry for change."
Mr McCallum said collaboration with a global remit was "the way forward" and China was ready to do business with the UK.
But timing is paramount, he warned, adding: "We must wake up fast. Chinese companies want to collaborate. Their executives are respectful of age and knowledge.
"We fear being copied and they fear not getting paid, but the door is open.
"If we do not plan to live together, then ignorance will bring along an even harder downturn."
Mr McCallum co-founded energy services group Senergy, before selling it to Lloyd's Register in 2013, a year before the last downturn struck.
He said the years leading up to the crash were a "boom time" but cracks were appearing in the oil and gas industry's veneer.
"The sector started to get greedy, abandoned diversification, and raised prices for equipment and people," he said, adding: "We forgot we were once the young innovators who embraced change.
"And we forgot to take on a new generation we could pass our experience on to. We became fat and uninventive."
He said the industry had to pick its partners wisely and tell its story to a new generation of innovators.
This story was one of amazing technological innovation and the creation of amazing companies that have shaped the world, he added.