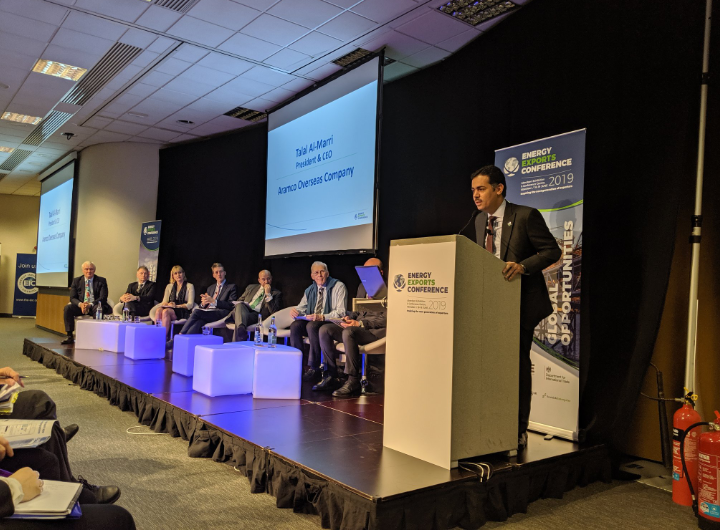 A boss at Saudi Aramco said yesterday the firm's 10-year, £320 billion capital programme was a huge opportunity for the UK's oil and gas industry supply chain.
But collaboration is not as good as it should be between Aramco and UK companies, said Talal Al-Marri, president and chief executive of Aramco Overseas Company, an international subsidiary of the Middle Eastern energy and petrochemicals giant.
Mr Al-Marri said Aberdeen had been a "centre of excellence" for the oil and gas industry for decades and would continue to be one for many years to come.
The businessman also said he was "very confident" Aramco could "benefit from the knowledge and expertise" Scotland boasts.
In exchange, Aramco offered "exciting opportunities".
Mr Al-Marri was speaking during the plenary session on day one of the inaugural Energy Exports Conference at Aberdeen Exhibition and Conference Centre, attended by more than 500 people.
Organised by the Energy Industries Council, the event was created to give suppliers a chance to find out about new opportunities on huge global projects.
Experts from various government agencies were dishing out advice on how to find and secure clients.
Major operators, including Aramco and the international arms of BP and Shell, and tier one contractors, were on hand to discuss their requirements.
Aramco accounted for about one in eight barrels of crude oil produced globally from 2016 to 2018 and has vast refining capacity.
Mr Al-Marri said the company would allocate more than £320bn over the next 10 years to maintain its operations.
He said about half that would go towards drilling activities, and that Aberdeen-based companies could make a big contribution to its projects.
Aramco has opened a technology office in Westhill, near Aberdeen, in 2013 to "capitalise on the unique ecosystem" of oil and gas knowledge in the north-east, he said.
The company had also made a string of investments in north-east companies, he added.
Last year, its corporate venturing subsidiary, Saudi Aramco Energy Ventures, committed to investing a seven-figure sum in pioneering oilfield technology firm Well-Sense, which is owned by FrontRow Energy Technology Group.
Aramco also agreed to work with Pragma, another FrontRow company, on the development of advanced production technology.
Mr Al-Marri said Aramco had provided clear signs it valued technology developed in the north-east.
He said he was "not happy" about the current level of collaboration between Saudi Aramco and UK companies, but identified huge potential for expansion.