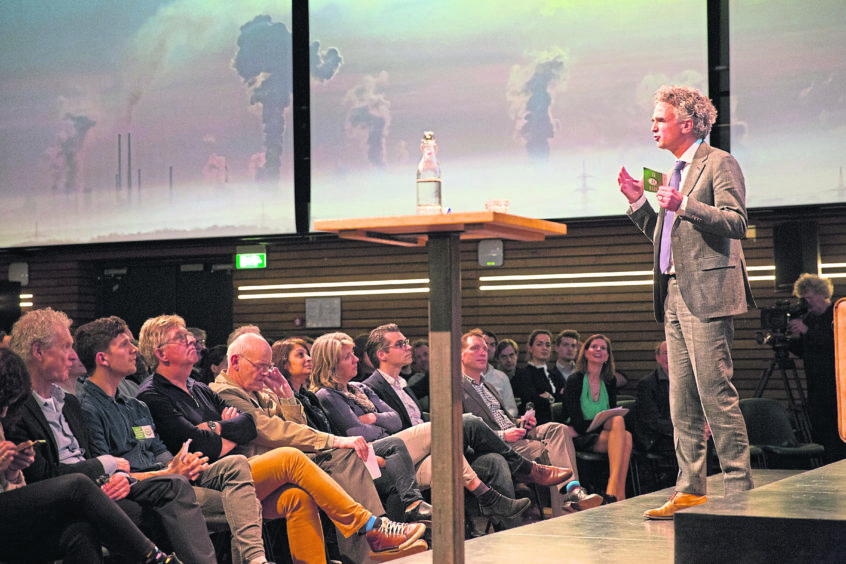 If you've attended or watched annual general meetings (AGMs) held by oil majors in the last few years, you might recognise Mark van Baal.
He's the guy trying to whip up enough shareholder support to convince these huge firms to honour the Paris Climate Agreement.
Mr van Baal and his organisation, Follow This, had some success in convincing oil giant Shell to take responsibility for emissions from the use of its products.
Its resolution, put forward in May, asking BP to start setting targets for product emissions was not supported by the company's board, and was backed by just 8.35% of shareholders at the AGM.
BP's board and shareholders did support a resolution calling for the company to show how its strategy fits in with the Paris goals.
Mr van Baal is, in many ways, the voice of the public right now – standing up to the biggest oil companies in the world, asking them to listen to his pleas concerning climate change.
"I'm not an intimidating guy," he claims. "But oil companies should certainly be intimidated by climate change. The mission is to make very visible to oil majors what the choices are and where the choices of their investors lie."
Mr van Baal strongly believes the oil industry can make or break the Paris Climate Agreement, but that many, if not all, big firms have boards that are reluctant to change.
But he's optimistic.
He said: "Many of these companies' board members don't have much imagination beyond oil and gas, but now the world is trying to do something different.
"Luckily they have investors or investment funds – big institutional investors – who really want climate change to be stopped for financial reasons.
"We need the investors to urge oil majors to change.
"I'm just saying to these big companies that we need you and you can do this. I had a small altercation with BP chief executive Bob Dudley where his response was basically 'the needs of customers is out of my control, I can't change what car they drive'.
"What I'm saying is that big oil and gas firms need to stop pitting these concerns against the needs of their shareholders."
Mr van Baal claims oil firms are used to thinking big so they need to "think bigger" about how to reduce emissions and combat climate change.
He said: "I think they need to make bigger bets, very big bets on renewable energy, because they explore oil and gas and sometimes they spend millions on what turns out to be a dry well, so they're used to thinking big.
"Now they need to think big on new business models because I think that this needs to be done and can be done. The good thing about this is that it will succeed because investors and shareholders have a huge financial incentive in
climate change; if it gets out of hand, investors cannot make a decent return."
Mr van Baal has gained a sizable reputation within the oil and gas sector by being the man who will stand up and face oil chief executives head on about climate change, often the lone voice of dissent in a room full of people whose financial success is tied to the rampant growth of fossil fuels.
Yet he doesn't believe that oil companies should be shamed into a position of change.
Asked if he's ever felt that firms should face harsher treatment on how they generate profit, he said: "No, not at all. We do not shame them. We offer solutions for them to change; this has been our approach from the beginning.
"My idea was that oil majors really want to be a force for good, especially Shell, but they're afraid of their shareholders. They need more shareholders to make brave and bold decisions.
"It's a big decision for an oil company to say: we're an energy company and we're going to invest heavily in a new type of energy because it's something the boards do not have experience of.
"We always end our resolution by saying 'you have our support'; we want to support them to make a change."
Despite this, Mr van Baal is insistent in his belief that traditional oil and gas majors must alter their course to remain relevant in a quickly shifting energy sector. He said:
"This is my message to the industry: you need to think about how to do business differently. Some of the chances you make will succeed and some will not but if you do nothing you can be 100% sure you will not succeed in the future."
Recommended for you

Labour's North Sea plan poses 'clear and present danger' to energy security