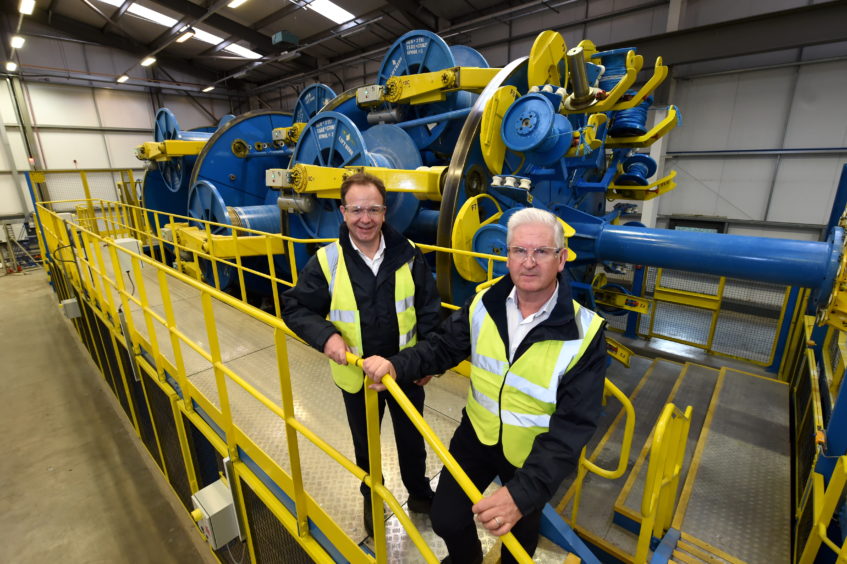 Bosses at Hydrasun are in high spirits after investing in new kit, lifting profits and returning the firm's order book to pre-downturn levels.
Hydrasun recently activated a £2.5 million machine for making larger subsea umbilicals and well intervention lines at its Aberdeen base.
And more good news could be on the way, as Hydrasun gears up for what is expected to be one of the busiest North Sea shutdown seasons in years.
The company provides integrated fluid transfer, power and control solutions to the energy, marine, renewables and petrochemicals industries.
Its chief executive, Bob Drummond, added the firm was making "good progress" to positon itself for the energy transition by delving into the hydrogen technology and carbon capture markets.
Improved market conditions and heightened demand for the firm's services helped Hydrasun chalk up Ebitda of £6m for the year ended March 31, 2019, up by one third on the previous 12 months, according to accounts filed at Companies House.
Revenues jumped 21% year-on-year to £72.3m, while pre-tax profits climbed to £4.28m from £2.68m, as Hydrasun was buoyed by a £13m contract award for a gas project between Israel and Egypt.
Mr Drummond believes revenues for 2019-20 will grow by about 12% to £81m, partly thanks to an additional contract win in the Eastern Mediterranean worth £3-4m.
Deals worth about £3m in total have also been secured in Algeria and Egypt, as have orders worth £4m for umbilicals and hydraulic leads for major projects in the UK and abroad.
Mr Drummond said the newly installed equipment at Gateway Business Park, south Aberdeen, had significantly increased Hydrasun's capacity.
The business has also invested about £400,000 in new manufacturing machinery for the automation of processes in its precision manufacturing division.
And hefty sums were spent on stock during the reporting period to meet demand and "offset Brexit risks".
Hydrasun's order book is currently worth around £23m, its highest total since September 2014, when the oil sector crashed, according to chief executive Bob Drummond.
He feels more confident that the company has emerged from the "trough of the downturn", which Hydrasun experienced in 2017-18.
Mr Drummond said the firm was fortunate to have a broad customer base across multiple regions.
The company has boosted its headcount to keep up with demand, to 452 from 426 a year ago across bases in the UK, US, Netherlands, United Arab Emirates, Azerbaijan, Malta, Kazakhstan and Africa.
Chief commercial officer Craig Sangster said Hydrasun had started prioritising the recruitment and subsequent training of graduates, who tend to have fewer bad habits than more experienced workers on inflated salaries.
Hydrasun is also benefitting from an uptick in activity as operators look to tackle their maintenance backlogs.
The UK North Sea continues to be Hydrasun's largest single region for revenue generation.
Mr Sangster said the planned Forties Pipeline System shutdown in summer 2020 could be lucrative for Hydrasun and the wider oilfield service sector.
FPS is expected to shut for about a month as part of a huge rejuvenation programme being carried out by operator Ineos.
Most companies whose platforms export via FPS will try to synchronise their own maintenance shutdowns during that period.
Mr Drummond said the 2020 shutdown season would be "one of the biggest" for many years.
Meanwhile, pre-tax losses at the Hydrasun's London-registered parent company, Hydrasun Group Holdings (HGH), widened to £26.7m in 2018-19, from £24.7m a year earlier.
Funds managed by Investcorp Bank BSC are HGH's majority shareholder, according to the accounts.
Recommended for you

Richard Irvin FM celebrates new pipeline of work worth more than £670m