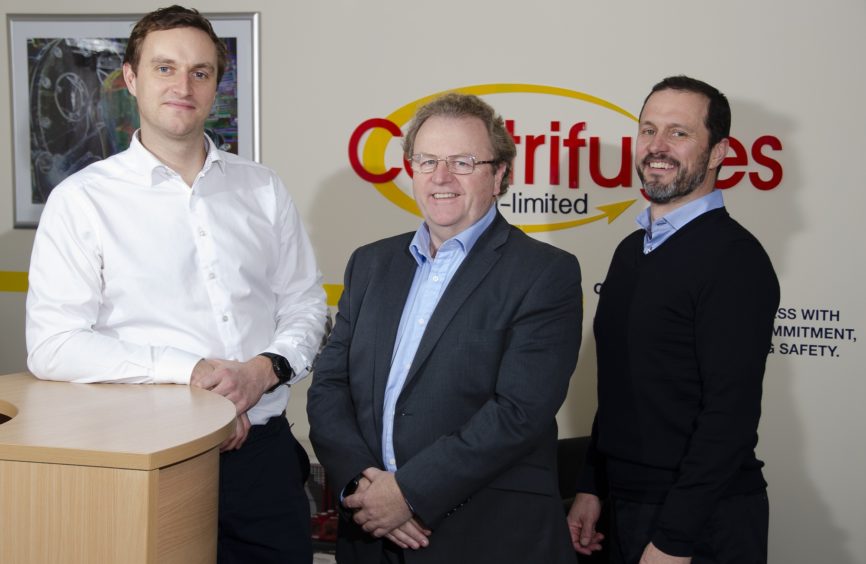 Aberdonian entrepreneur Jim Shiach has sold oilfield services company Centrifuges Un-Limited to the family that previously owned supply chain giant Ferguson Group.
Centrifuges is now controlled by Linton Investments, the investment vehicle of the Ferguson family.
It marks a foray back into oil and gas for the Fergusons after they sold their Kintore-based business in 2014 for £320 million.
Linton described the acquisition as an opportunity to "build and develop" Centrifuges, which is based in Howe Moss Terrace within the Kirkhill Industrial Estate, Dyce, and employs 15 people.
The new owner has not confirmed if Mr Shiach, 60, will continue in his role as managing director.
But it did say he will remain with the business at least as a consultant during a transition period expected to last "a few weeks".
A decision on his future will be made later, although documents lodged at Companies House show he is no longer part of the boardroom team.
Mr Shiach said Linton is "perfectly positioned" to continue to grow Centrifuges, which specialises in the design, manufacture, installation and maintenance of oilfield equipment.
He added: "I believe that this move is important in facilitating further expansion for the company and essentially taking it to the next level in terms of growth and innovation.
"The business pedigree and family ethos of Linton Investments make them perfectly positioned as the best people to take the company forward."
Linton Investments said the Ferguson family has been waiting for the "right time in the cycle" to make a return to oil and gas, with the "right environmental credentials".
Over three decades Ferguson Group transformed itself from a small North Sea container firm into an international offshore supply firm.
In 2014, Steven Ferguson joined the rankings of the richest people in Scotland after selling the business to Australian rival Brambles for an eye-watering £320million, with Linton being set up afterwards.
With the acquisition of CUL Holdings, which includes Centrifuges UN-Limited, Linton appointed James Scullion and John Dick to the firm's board.
The pair said developing the current offering, further internationalisation and looking for opportunities "beyond oil and gas" were all parts of the growth strategy.
Mr Scullion said: "This is our first investment back into the oil sector as we have been waiting for the right time in the cycle and the right opportunity with the right environmental credentials to come along.
"Centrifuges has an excellent heritage which we believe we can build upon and develop."
The deal comes after Centrifuges toasted new deals worth £1million in August, representing 33% growth on the same period in 2018.
Centrifuges said the recent success was due to a focus on its mechanical separation division, which provides fluid cleaning solutions for a range of areas including well testing activities.
Its key markets include the UK, Norway, Egypt, the Middle East and West Africa.
Also joining the board from Linton, Mr Dick, added: "Exploring the rental market further and internationalisation will be key drivers in our future strategy, coupled with more emphasis on developing opportunities in industries beyond oil and gas."
In 2015, following the sale of Ferguson Group, Steven Ferguson was placed 22nd on the Sunday Times Rich List with wealth of £250m and has remained a staple of the rankings every year since.
Jim Shiach has been at the helm of Centrifuges Un-Limited for nearly 17 years, setting the business up after first establishing Solids Control Electrical Services a year earlier in 2002.
It was at 21 when he launched his first business venture, JS Electrical, in 1981.
He is the great grandson of legendary Aberdeen businessman Alex "Cocky" Hunter, who traded second-hand goods from his city-centre stores.
Recommended for you

OSSO forging ahead with international growth strategy