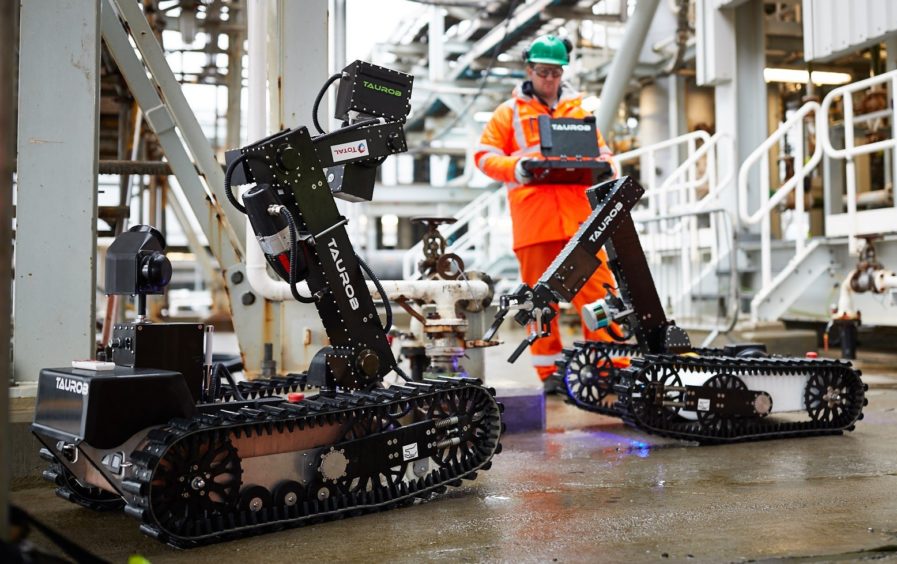 Big hitters from industry and politics have toasted the "incredible achievements" of the Oil and Gas Technology Centre (OGTC) in its first three years of business.
They credited the OGTC with developing technology that will bring more North Sea oil and gas to shore, underpinning the UK's energy security.
But the centre is also expected to play a key role in the UK's transition to a net-zero economy.
The £180 million pound centre, funded by the Aberdeen City Region Deal, claims to have generated a "potential" £15 billion in gross value added for the UK economy.
Since opening in February 2017, it has co-invested £146 million with industry in 230 innovative projects, brought 20 technologies to market and created 90 jobs.
It has worked with Taurob and Total on a world-first autonomous robot which could shave £128m per year off the cost of asset inspections.
Other projects include Aberdeen firm EC-OG's marine turbine for powering subsea infrastructure, reducing emissions and saving £20m annually.
The OGTC's technology accelerator, TechX, has invested £3m in 21 companies, completing 10 field trials, generating 22 new jobs and creating two new facilities.
The OGTC teamed up with Aberdeen University to launch the National Decommissioning Centre in Newburgh, Aberdeenshire, a year ago.
And now it is preparing for the opening of the National Subsea Centre, with Robert Gordon University, in mid-2020.
Nearly 20 operators and supply chain companies are "actively engaged" with the OGTC's net zero solution centre, unveiled in September 2019.
The first batch of low-carbon technologies are currently being developed, according to the centre, which has struck up partnerships with Denmark, Norway and the Netherlands.
Chief executive Colette Cohen said it was "incredible" to reflect on how much has been achieved by the OGTC, while acknowledging there was "so much more to do" to transform the oil and gas industry for a net-zero future.
UK Government minister Douglas Ross labelled the centre's progress "fantastic" and said he was looking forward to seeing it keep Scotland "at the forefront of the global energy industry".
Scottish Energy Minister Paul Wheelhouse said the OGTC was playing an important role in Aberdeen's transition from being "Europe's oil and gas capital" to a "truly global energy city".
Sir Ian Wood, chairman of Opportunity North East (ONE), said: "The OGTC has developed very successfully over the last three years and is now playing a significant role in growing and anchoring our oil and gas supply chain in the North East of
Scotland long term, beyond the North Sea. The technology developed will significantly enhance and maximise the economic recovery of our North Sea oil and gas reserves and grow our international reputation and reach."
Recommended for you

RGU and Strathclyde Uni agree five-year subsea collaboration