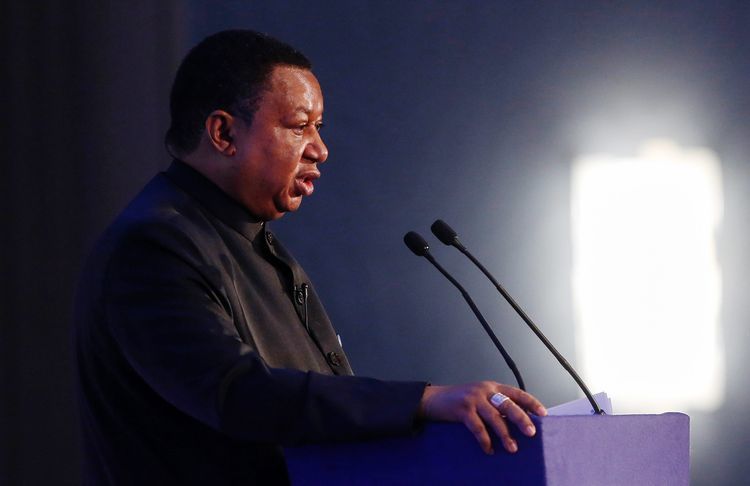 OPEC and its allies are displaying a "renewed commitment" to reach an accord that will stabilize oil markets hit hard by the coronavirus, the group's top official said.
All eyes will be on the group's meeting next week after crude prices slumped to a one-year low below $46 a barrel in New York. The disease has slashed fuel demand in China and threatens global economic growth, but the 23-nation coalition has so far appeared divided over its response, with Saudi Arabia pressing for production cuts and Russia taking a more cautious stance.
Saudi Aramco is supplying China with 500,000 barrels a day less than normal in March due to the outbreak, according to a person familiar with the matter.
"There is a renewed commitment" in the alliance "to build the consensus for a joint action in mitigating the current hyper volatility in the market," Secretary-General Mohammad Barkindo said in an interview from Saudi Arabia, where he has interrupted a religious pilgrimage in Mecca to help co-ordinate the Organization of Petroleum Exporting Countries' upcoming meeting.
The group intends to proceed with talks scheduled for March 5-6, and has distributed health guidelines to staff at its Vienna secretariat as well as national delegations with advice on preventing infections.
Commodities are caught in an unrelenting slump as gloomy headlines over the impact of the deadly coronavirus pile up. In addition to the plunge of more than 20% in oil since the start of the year, copper and nickel slid, while a gauge of grain prices was set for the first back-to-back monthly loss since August. Investors fleeing risk have found a haven in gold. Brent, the global crude benchmark, kept falling on Friday and is now down around 12% this week.

Saudi Arabia wants OPEC producers including Russia to agree to collective production cuts of an additional 1 million barrels per day, the Financial Times reported, citing five people familiar with the talks.

Resource-dependent economies are under pressure, yet over the past month Russia has rebuffed pressure from Saudi Arabia for an emergency meeting of the OPEC+ alliance, saying it preferred to take time to analyze the situation. A more diversified economy enables Moscow to weather the slump in oil prices more easily than the Arab kingdom.

Nonetheless, Russian Energy Minister Alexander Novak rejected speculation that the two producers who spearhead OPEC+ are at odds, saying on Thursday that he's "very satisfied" with the level of cooperation.

Barkindo said the OPEC+ partnership has proved effective in balancing world crude markets since it was founded in late 2016, and will do so again.

The group "is a tested and proven market mechanism that restored the oil markets to stability in the last three years," he said. "This framework will be applied in addressing the current volatility in the oil markets."

Oil prices may in any case be on track to rebound because the losses have been excessive, Barkindo said.

"Looking at the broader macroeconomic picture, it's clear that there is an over-reaction" with "energy assets in general being under-priced," he said.
Recommended for you

Saudi Arabia Goes It Alone at OPEC+ With Million-Barrel Cut