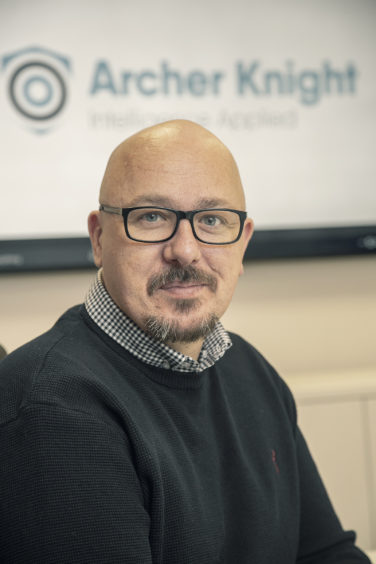 Subsea market intelligence and consultancy firm Archer Knight is planning a £1 million cash for equity fundraiser.
Bosses are also eyeing international growth opportunities for the business.
The Aberdeen firm raised £500,000 from 21 "high net worth" investors last year and aims to launch an even bigger second call for funds next month.
Co-founder and executive director David Sheret said there was potential for further support through the new £250m Future Fund, launched by Chancellor Rishi Sunak last week to help innovative businesses affected by Covid-19.
Mr Sheret, who founded Archer Knight with fellow executive director Mike Watson in mid-2016, revealed the firm – which currently employs 10 people plus contractors – also plans to take on more staff in the coming months.
It comes soon after the launch of a new market intelligence product by the company.
Flowline, described as a "software-as-a-service", web-based platform, is said to give subsea supply chain firms greater insight into where they can find the most profitable opportunities. According to Archer Knight, it can save clients time and money, while also helping to reduce their carbon footprint.
Flowline uses analysis from Archer Knight's in-house team and data from a 50,000-strong global network of contacts to deliver a detailed, real-time view of the subsea market.
Operators, suppliers, and service companies can use it to track everything from vessel activity to the status of ongoing projects.
Mr Sheret said: "Market intelligence is absolutely essential to the subsea industry, especially in the current climate.
"Companies need access to trustworthy data that enables them to make better decisions.
"They need greater insight into the key performing indicators within the sector in order to focus their efforts where it counts.
"Technology has a powerful role to play and we believe Flowline brings something completely different to the market.
"Archer Knight has done well for a small Aberdeen company.
"We've managed to work through the Covid-19 crisis without furloughing anyone so far and we believe launching Flowline will allow us to continue to employ a full complement of staff and, in fact, increase our headcount by up to five more in the next three months."
The firm plans to establish offices in the US, Middle East and Asia, he said, adding: "We already have investors in Spain, Dubai, Norway and 
the US so we know we
can attract foreign investment."
Recommended for you

New jobs as Aberdeen's Archer Knight acquires Singaporean intelligence firm