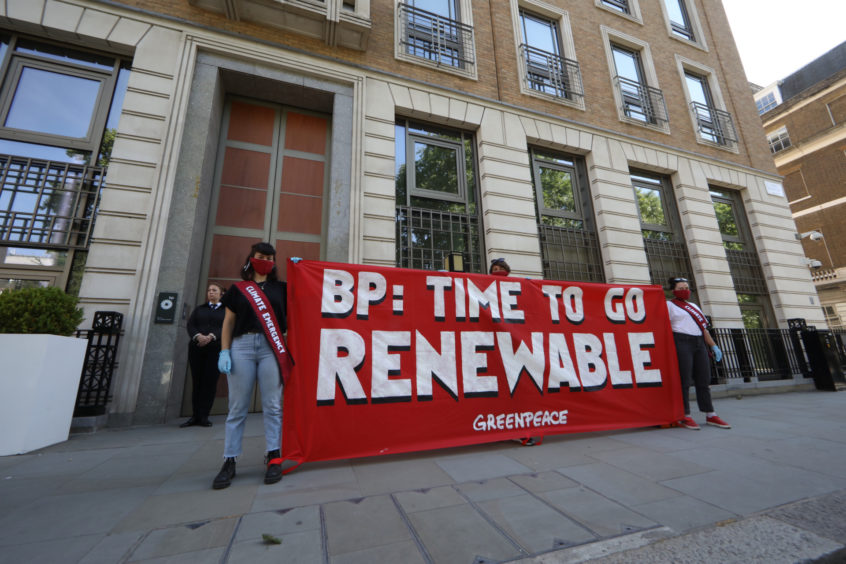 Greenpeace is staging a "socially distanced protest" outside BP's London headquarters as the energy giant is due to begin its annual general meeting.
The campaign group has accused BP of "mixed messages" on its plans to go net zero by 2050 but continuing to drill for oil and gas.
Protestors have placed a banner outside the St James's Square offices saying "BP: Time to go renewable".
Police are understood to be at the site of the protest.
Oil and gas has been recognised as a crucial energy resource for years to come, although pressure to accelerate the transition to cleaner fuels is growing.
Last night, 12 CEOs from major oil firms, including BP, published an open letter stating that the Covid-19 pandemic will not delay climate action, but instead has "crystallised" their focus on it.
BP set out its net zero ambitions in February, with a capital markets day planned for September to showcase its strategy to execute its plan.
Mel Evans, senior climate campaigner for Greenpeace UK, said: "BP's boss Bernard Looney promised to re-imagine BP but shareholders have been let down with empty statements and precious little action.
"Mr Looney says he is committed to 'net-zero' while also promising that BP will be in the oil and gas business for 'a very long time'. He cannot have it both ways. The only way BP can address its climate impact is to stop drilling for new oil and gas and switch to renewables. Otherwise investors can expect more turmoil to come."