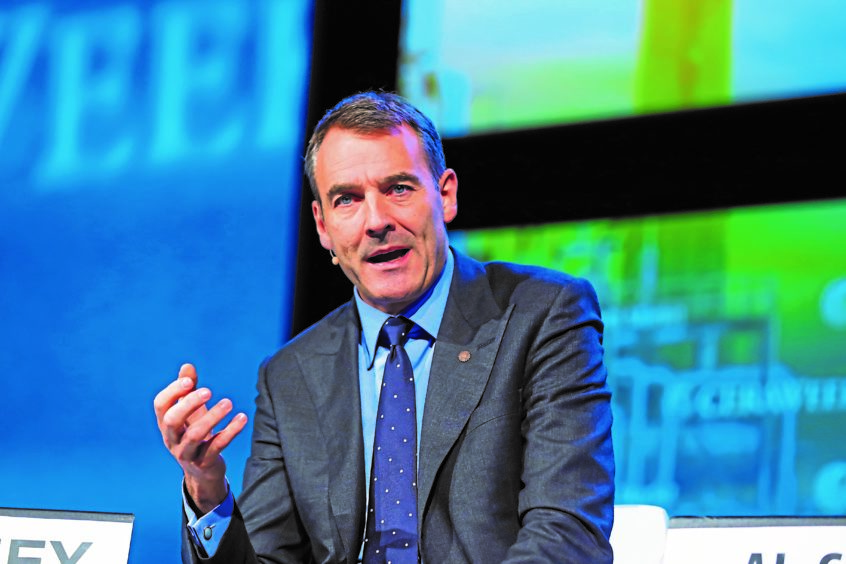 BP has unveiled ambitious new plans to slash its carbon emissions in a move that will lead to an overhaul of the UK oil giant's structure.
The major intends to eradicate emissions from its own operations by 2050, at the latest, while also tackling the far larger carbon footprint left by the use of its products by customers.
Bernard Looney, BP's new chief executive and former North Sea boss, set out the firm's net-zero "destination" this afternoon, but said further details, including near-term targets, would come later this year.
Analysts and senior industry figures welcomed the announcement and ambitions, saying they represented a complete "turnaround" in BP's position and brought the company in line with peers like Shell.
Mark van Baal, of influential activist shareholder group FollowThis, hailed Mr Looney's decision as "outstanding" and an "extraordinary accomplishment".
But environmental groups said BP's drawn out timeline meant Mr Looney's successors would have to deliver the company's goals, not the current boss.
Read also: BP's boss hailed for taking oil giant in very different direction
The oil and gas industry is under mounting pressure from environmental activists and some investors to scale back investment in exploration and production.
They want to see the sector spend more on renewable energy and help achieve international climate change goals.
Arts organisations have ended their associations with BP, while protests have been staged at the firm's offices and on oil rigs contracted by the firm.
Mr Looney, who is faced with the daunting task of steering BP through the fledgling years of the energy transition, said he understood the frustration and anger of people who wanted cleaner energy.
He said talks with investors, partners and policy-makers around the world had led him to the "inescapable conclusion" that BP must change.
The new boss admitted BP's "pace and direction of travel" would be "insufficient for some" but the company would be a "force for good in a net-zero world".
The group laid out 10 "aims" to help get BP "and the world" to net zero, with the first three arguably the most significant.
BP aims to achieve net zero from its own operations, which currently produce 55 million tonnes of carbon dioxide per year, by the middle of the century.
The second aim covers emissions arising from the oil and gas BP produces, known as "scope three" and currently equivalent to 360m tonnes per year.
Mr Looney said the 415m tonne total was "not far off" the UK's annual emissions tally.
The third aim is to reduce the "carbon intensity" of the products BP buys from other companies before reselling – which also falls into the scope three bracket — by 50% by 2050.
Mr Looney said the firm would invest more in low carbon businesses and "less and less in oil and gas".
But the company is not "getting out of oil and gas" and will still be producing hydrocarbons in 2050, he said, adding BP had to be financially strong and keep shareholders onside, otherwise it "won't be around for the energy transition".
Read more: BP and low carbon: The story so far
Asked whether oil and gas asset sales were on the cards, Mr Looney said BP would look at its portfolio in the months leading up to a capital markets day in September.
The London-headquartered company will reorganise to become "more focused and integrated" in a bid to achieve its ambitions.
It will tear up a structure that has been in place for more than a century.
The group is currently divided into three main branches — upstream, downstream and "other businesses".
Post-reorganisation, BP will be made up of four divisions — production and operations, customers and products, gas and low carbon, and innovation and engineering.
Mr Looney said the production and operations business would be "at the heart of BP", driving safety and reliability.
The division will be headed up by Gordon Birrell, who hails from Fife and had a stint as business unit leader for BP's mature producing fields in the North Sea.
Most recently, he held the role of chief operating officer, production, transformation and carbon at BP.
Recommended for you

Dutch pension fund PMT sticks with nine oil and gas companies