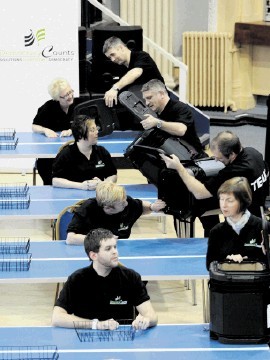 Backers of the Vote for City Garden Project campaign have argued Aberdeen's future prosperity is at stake in a local referendum that closes later today.
Senior north-east oil and gas industry figures are among the supporters of the Granite Web design and a £92million regeneration scheme for Aberdeen city centre.
The energy sector businessmen joined calls for a last-day polling surge in the ballot that will determine the future of the city's Union Terrace Gardens.
The total number of votes cast reached 79,951 yesterday, with another day remaining for local residents to have their say.
Colin Welsh, chief executive of Simmons and Co, warned the city cannot afford to be complacent in the face of a changing energy industry, a day after an Oil and Gas UK activity report forecast an 18% drop in North Sea oil production.
He added: "The UK became a net importer of oil for the first time since 1978 last week.
"This is a wake-up call for the people of Aberdeen. We cannot be complacent about the future of our city.
"Unless Aberdeen shows a willingness to make changes that will improve the quality of life for its residents and make itself more attractive to incoming investors, we limit the prospects of sustaining the wealth generation that currently exists and will reduce opportunities in the future for our children."
Mark Patterson, chief executive of Nautronix, added: "Companies like mine are competing for skills from places such as Perth, Australia, Dubai and Houston.
"Aberdeen must have something that sets us apart from other cities. It is no longer enough to rely on our recognised quality of life – we have to continue to invest in it and evolve to be able to compete."
Amec strategy and growth director Sandy Clark said the North Sea has gone from being the fifth largest oil producer in the world, to the 18th.
He said: "If Aberdeen is to have an oil and gas industry in the long term and anchor existing businesses and jobs here, it must have a vibrant attractive city centre as a focal point for its many other quality-of-life attributes."
City residents on the electoral roll can vote until 5pm today.