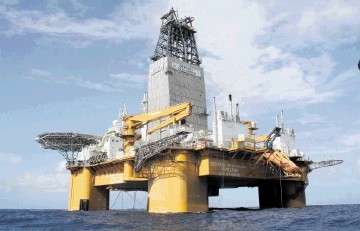 A deep water drilling rig to be used west of Shetland by BP will be named after Aberdeen in recognition of the Granite City's importance to the oil major's history.
BP said the rig it contracted Odfjell Drilling to build would be called Deepsea Aberdeen and would be the first to bear the name of the oil capital of Europe.
Trevor Garlick, BP's North Sea regional director, said: "The naming of facilities is one of those small but important details that can have an impact for decades. Aberdeen has been the centre of our North Sea business since the late 1960s and we are delighted that the new rig will be called the Deepsea Aberdeen, the first such rig to have Aberdeen in its title."
BP said Deepsea Aberdeen would be similar to its sister rigs, Deepsea Stavanger and Deepsea Atlantic.
It comes after BP signed a £775million deal with Odfjell for the use of the new-build rig on its £3billion west of Shetland development.
Under the terms of the deal, the largest in Odfjell's 40-year history, Deepsea Aberdeen will be used for seven years on the Quad 204 project – a key part of which is the redevelopment of the Schiehallion and Loyal fields.
Construction engineering on the sixth-generation harsh-environment rig has already started in South Korea, where it is being built by Daewoo Shipbuilding and Marine Engineering.
Odfjell will take on about 150 people onshore and offshore to complete the work, with the onshore team based in Aberdeen.
Odfjell chief executive Simen Lieungh said: "We are proud to announce this name. This is the first of our new builds that will be operated from our office in Aberdeen, and it's great to be able to tie the rig name to the area.
"The rig will operate for BP for many years, and we believe that BP and partners will be pleased with this rig name."
The contract, subject to approval by partners on Quad 204, is due to start in the fourth quarter of 2014 and has three one-year extension options.