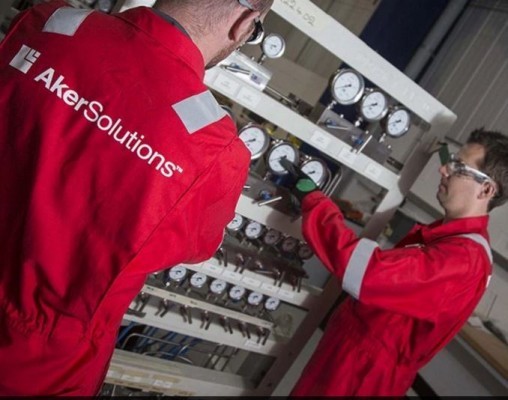 Aker Solutions has announced plans to merge with fellow Norwegian energy service firm Kvaerner and appoint a new chief executive.
The company will also "spin off" its wind development and carbon capture and storage (CCS) businesses, creating two separate Oslo-listed entities.
Furthermore, Aker Solutions revealed it had made about 200 employees redundant in the UK as a direct result of Covid-19 and lower commodity prices.
The merger will take the form of a "statutory merger" whereby Aker Solutions will "absorb" Kvaerner, with whom it has a shard history spanning decades.
Both companies are partly owned by Aker, an industrial investment company controlled by Norwegian billionaire Kjell Inge Rokke.
Kvaerner shareholders are expected to receive ownership interests in a range between 43% to 53% in the combined company.
Audun Martinsen, head of energy services at Rystad, said the merger was a "natural step" and would allow the firms to create more focused business units which can compete for green energy contracts.
The enlarged Aker Solutions and will have around 15,000 employees in 50 locations and revenues of £3.3 billion, based on last year's performance.
The companies employed 18,800 people in total at the start of 2020.
Aker Solutions said they had started making capacity and cost reductions prior to the merger in response to lower commodity prices.
It said most of the on-going staff reductions would be completed before the tie-up is implemented.
The cost-cutting drive should create annual savings of £130 million per year from 2019-21.
Earlier this month, Aker Solutions confirmed it was cutting 44 offshore roles after client Equinor shelved a UK North Sea project due to the oil price rout and Covid-19 outbreak.
In October 2019, the company announced 95 job losses in Aberdeen, saying the change was in line with its global focus on delivering greater efficiencies, with the UK business evolving to deliver "digitally enabled services".
At the time, it was understood Aker Solutions employed about 750 onshore staff in Aberdeen with a total of 1,750 across the UK.
Kjetel Digre, most recently senior vice president of operations and asset development at Aker BP, will replace Luis Araujo as chief executive of Aker Solutions on August 1.
Mr Digre said: "The combined company will be a dedicated execution partner for delivery of complete projects for new energy production facilities, for example oil and gas production platforms or subsea systems, or offshore wind power installations."
Commenting the rationale for the spinoffs, Aker Solutions said it had taken "strong positions" in the wind and CCS markets, which were likely to generate value in a world transitioning to low-carbon at speed.
But the two businesses have better prospects as standalone companies than as part of an integrated oilfield services group.
Aker Solutions chairman Oyvind Eriksen said: "Aker Solutions has developed technology and taken strong positions in markets for offshore wind and carbon capture, utilisation and storage.
"However, it has become increasingly clear that these businesses represent value creation opportunities in a world transitioning to green solutions at accelerated speed and have more potential as stand-alone companies than as an integrated part of an oil service business."
Rystad's Mr Martinsen added: "With a second downturn in the oil and gas market since 2014, consolidation within the oil and gas supply chain is required to further cut costs and strengthen the competitiveness internationally.
"With a challenging oil and gas service market, which will drop 25% in 2020 and not go back to 2019 levels before 2023, suppliers have found ways to compete and maintain market shares.
"With a renewable sector that is forecasted to grow 50% by 2025, suppliers will have to make strategic choices.
"Offshore wind investments will overtake that of Oil and Gas in Europe already in 2022, and with this move, Aker Solutions and Kvaerner seem to be well equipped to handle the transition in the right way."
Recommended for you

Subsea 7, Aker Solutions secure contracts for Trell & Trine