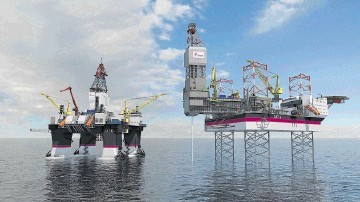 Statoil is reinforcing its ability to fully exploit mature Norwegian assets by commissioning a new class of jack-up rig that will complement a new family of semi-submersibles now being built for similar work, but in shallower water.
The so-called Category J units will be designed by the industry on behalf of Statoil. They must be economical to operate and therefore work at lower rig rates than high-end jack-ups currently command.
They must also offer greater drilling efficiency and be available when the Norwegian semi-state operator requires.
The proposal is that licence groups take on ownership of these rigs.
The new Category J rigs will be able to operate at water depths in the range 70-150m and drill wells to 10,000 meters depth. It will be tailor-made for operations in harsh environment on both surface- and subsea wells in the shallow-water segments on the Norwegian Continental Shelf.
It will be primarily for drilling and completion of production wells.
"The key to maintain today's production level on the NCS towards 2020 is improved recovery from existing fields and fast and effective development of new fields.
"We need to drill more wells to deliver on our production ambitions," said Oystein Arvid Haland, head of drilling and wells at the company.
"Statoil has the capacity and competence to drive technology and innovation to drill more efficiently and rejuvenate the rig fleet on the NCS. The new Category J rigs will deliver wells 20% more efficient than conventional rigs.
"We aim to achieve reduced cost and time per well with safe and efficient operations."
The design is currently being developed in collaboration with various industry players like hull designers, topside suppliers, construction yards, and drilling contractors.
"Statoil is continuously working to secure a rig fleet with the right capacities and capabilities to suit our needs," said Statoil's chief procurement officer, Jon Arnt Jacobsen.
"However, upgrade and adaptations on many of the existing rigs appear too costly for our requirements and challenges on the NCS. We are therefore taking steps to rejuvenate the rig fleet and ensure that the right rigs meet the right requirements.
As a long-term industrial player on the NCS, we look forward to working with suppliers who have competence in building and operating rigs to develop new and cost-effective solutions."
Statoil is planning to invite tenders for a minimum of two Cat J rigs in July and for the contracts to be awarded during the second half of this year.
The rigs are to be delivered in the second half of 2015.
The Category J approach mirrors that used by Statoil with the Category D semi-submersibles, four of which are now on order and which will be operated by drilling company Songa.