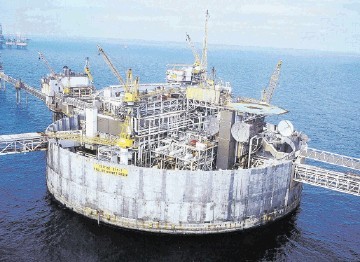 Norwegian operators, and especially Statoil, face a massive and expensive future challenge, disposing of giant concrete platforms installed over the period 1973 to 1995, some of which are approaching the end of their economic life.
A total of 14 structures were built, of which two have so far been abandoned in-situ, namely the Ekofisk Tank and Frigg TCP2 units.
Most are concrete gravity structures weighing hundreds of thousands of tonnes, but two are floating production units. The largest of these is Troll A, which weighs in at 1.2million tonnes including ballast.
A study just completed for the Norwegian Petroleum Directorate and which maps out the various disposal options, comes down in favour of in-situ decommissioning.
The study was conducted by the Petroleum Safety Authority (PSA) and the Climate and Pollution Agency (Klif).
"In the new study we've looked at different technological solutions for disposal of the concrete facilities, and assessed these in relation to health, safety, and the environment," said Arne Holhjem, director for technology and the environment in the NPD, director for professional competence Oyvind Tuntland in the PSA, and Signe Namdal, head of department at Klif.
"The report will be included in the background material for assessment of future disposal solutions."
The Convention for the Protection of the Marine Environment of the Northeast Atlantic (OSPAR), stipulates joint provisions and recommendations for offshore petroleum activities.
It was as a result of OSPAR decision 98/3 relating to disposal of disused offshore installations, that all facilities must in principle be removed.
In the case of concrete facilities, licensees can apply for an exemption from the ban on disposal at sea.
The report states that there is little experience from removal and scrapping of concrete facilities, and little data to base analyses on.
It shows that, although some facilities have installed equipment that was designed to enable refloating, there are many uncertainties as regards whether such operations can be implemented in a controlled manner.
The advantage of disposal on land will primarily be that the reinforcement rods, and possibly the concrete, can be recycled and the seabed can be returned to its natural condition.
An alternative to scrapping and material recycling could be using all or parts of a facility, for example, as bridge foundations or to create artificial land.
Attempting to remove redundant North Sea installations carries risk and the report warns that, in a worst case, an accident during preparation, re-floating, transport, or scrapping could have serious consequences such as loss of life or negative environmental impact.
Landing the concrete facilities for scrapping and material recycling could result in risk of discharges to sea and demolition operations on land will result in noise and dust.
Available area, both onshore and offshore is required, and conflicts with the local environment may arise.
The study says that abandoning concrete facilities on site is an alternative to transporting ashore, which can also have advantages as regards safety and be environmentally acceptable.
The view is that abandonment will have little impact on fish populations, but might conflict with fishery interests due to denial of access to grounds.
Furthermore, lights and navigation equipment would have to be installed on abandoned facilities to reduce the risk of conflicts with ship traffic.
It is suggested that abandonment of concrete facilities in situ would be acceptable as regards pollution.
Platforms result in localised pollution, but affected areas are "relatively small". Gradual regeneration is expected post-abandonment.
The report notes that disturbing piles of drill cuttings to remove concrete facilities could delay this process.
Recommended for you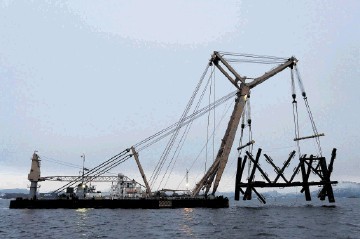 Rigs to reefs could be win-win, but government silence is frustrating