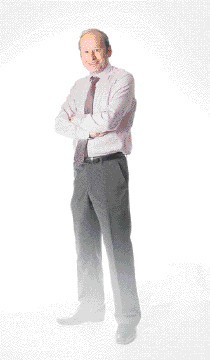 When Sam Laidlaw of Amerada Hess and Enterprise Oil fame took command at Centrica in 2006, it was said that one of his priorities would be to build a strong position in the North Sea.
The hostile, even acrimonious £1.3million takeover of Aberdeen's Venture Production in 2009, followed by the creation of Centrica Energy Operations (now Centrica Energy Upstream) at the start of 2010 were clear signals that Laidlaw was bent on delivery.
It was former Venture chief operating officer Jonathan Roger who was asked to drive the new business forward. He would appear to be succeeding.
"If you look at where the business is now; in the UK we're now the number six producer overall and in the top three for gas, plus we have a very strong development and production portfolio here," says Roger.
"In Norway we're one of the fastest growing entrants and we've achieved that through: transformational acquisitions and through an exploration track record that's the envy of competitors with four successful exploration wells out of seven drilled there so far.
"Then there is Trinidad & Tobago, which is our other big area of operation. We've built our business from a standing start over the last two years. This has a strong production base, significant development upside and exciting exploration potential. We've brought onstream eight new fields / field extensions and had seven exploration successes out of 14 wells drilled; that's a strong performance."
Centrica is currently producing about 50 million barrels of oil equivalent (boe) per year and the plan is to grow the upstream business by 50% in the next 3-5 years, taking output to 75 million (boe) per year. Of this, 20-30% is to be oil; the rest is gas.
A $1.6billion (£1billion) assets deal struck late last year with Statoil is a big step in that direction and is expected to quickly lift production to 62,000boepd.
"The Statoil thing is a big deal for us as it increases our reserves by a third and production by 25%," says Roger.
Following the Statoil deal, the proportion of output attributed to Norway will be about 40%.This compares with about 55% for the UKCS.
Having greatly reinforced production and therefore Upstream's ability to generate cash flow, the next thing is to ensure a pipeline of new assets to underpin output growth.
Roger believes the company has established a strong foundation to achieve this and reeled off a string of names when he met with Energy. While most are small to modest, at least one is large by North Sea standards.
They include Ensign (about to come onstream), York, Seven Seas, Rhyl, Kew, Atla (Norway), York, Valamon (Norway) and Cygnus which is expected to be sanctioned in 2012 and be onstream in 2015.
Roger: "We expect to be investing £800million or so per annum of which about £100million is for exploration and about £50million on maintenance capex which leaves about £650million for actual development. Basically this means about £3.4billion of capital investment over the next four years."
It is clear from listening to him that the Venture spirit lives on within Centrica, indeed the former independent's business sits at the heart of Upstream in Aberdeen.
It is the source of much of the innovative thinking that prevails and enabled Carboniferous gas projects such as Kew.
"When Centrica acquired Venture it was done for two reasons; one was for its asset base and, secondly and more important, was its skills base. We have retained those skills and by putting them together with our own, we are getting the best out of both, including having a strong pioneering spirit, great technical including sub-surface skills and a strong financial base. Indeed, the subsurface team is at the heart of what we do in this business.
"One of the things that we have done is pioneer the use of long, horizontal, multi-fractured wells in Carboniferous reservoirs drilled elsewhere. We're applying those learnings and are the first operator in the North Sea to do so. We're using this approach on Ensign (18million boe), Kew and Annabel.
"The other big focus is Cygnus, one of the largest undeveloped finds in the Southern North Sea. It has about 100million boe of gross recoverable reserves or about 600billion cu.ft of recoverable gas.
"We've built quite a strong acreage position around Cygnus. We would look to expand out from that field, hopefully through success in the surrounding Carboniferous, so adding reserves, increasing value and extending the life of Cygnus."
The project is currently at the front-end engineering and design stage, which is due to conclude about mid-year. The currently favoured development route would have three platforms as surface facilities. GdF is the operator and detailed discussions are being held with the market regarding key contracts. These will be awarded when the partners are ready to sanction the project.
"Regarding letters of intent, we're working with GdF on that. It's a matter of getting all the timings right . . . lined up," says Roger.
"We've still to get through detailed design and evaluate the cost of development prior to a formal investment decision. It will be a significant investment but we won't have an exact figure until we have done the detailed design. This will be a £1billion-plus ($1.6billion) development."
The next largest asset in the queue is the Norwegian field Valemon, which is being developed as a subsea tieback to the Heimdal platform. It is one of a portfolio that Centrica is keen to open up working in close co-operation with Statoil.
Turning to exploration, Roger's plan is to sustain 5-8 exploration wells a year of which about half are operated by Centrica . . . mostly North Sea, but not forgetting the occasional Trinidad probe too.
"The aim is to grow the reserves base through a balance of exploration and, via acquisition, unlocking assets that, in some instances, other companies have been unable to capitalise on.
Some assets that we have acquired had been lying dormant for decades, including Cygnus."
With Laidlaw in ultimate control, but with Roger at Upstream's helm, it would appear that the journey has barely started. With West of Shetland and the Barents Sea already in their sights, there is clearly much excitement ahead.
Questions and answers
Age: 42
Education: Aberdeen University B Eng 1st Class Honours
The 2/3 main roles in career and dates?
There have been three main parts to my career. Initially a really enjoyable and varied 12 years with Conoco in the North Sea and Indonesia in a variety of technical and business roles (1991-2003). Those experiences gave me a great platform to join Venture Production's executive team in 2003 with the remit of building a gas business firstly in the southern North Sea, expanding it into the Netherlands, then running all Venture's North Sea business and culminating in joining the main Venture Production plc board as chief operating officer (2003-2009). Following the takeover of Venture by Centrica in 2009 the third part to my career has been stepping up to lead the combined business as Managing Director of Centrica Energy Upstream, initially focussing on successfully integrating the organisations and then on building the business capability and scale (2009+).
What has been the hardest decision you have made in business?
From a personal perspective it was probably whether to stay on after the Centrica deal or to leave and do something else (of course I'm glad I stayed).
Who do you admire in business? Or who has inspired you most in your career?
I have been fortunate to have never had a poor boss, probably not something many people can say. I have seen lots of different styles and abilities, some more effective than others, but all with good elements and have tried to ensure I learned from them all. So I would have to say for me, it's many of the people I have been fortunate enough to have worked with.
What do you regard as being your greatest success to date?
Two of the key highlights have to be being part of the team that built Venture into a great business and then stepping up to lead the combined company on the back of what was, on paper at least, a hostile takeover. There was a real risk that the business unravelled, as seen in many other cases, and one of the main reasons I stayed was the challenge of leading a business through those uncertain times and then building it further.
What do you do to relax?
I love heading out into the country at the weekend for a walk and a picnic with my wife Sarah, kids Seb and Hayley (and not forgetting Henry the dog).
What is your favourite gadget?
It would have to be my iPAD, no more clunky laptop for me.
Where would you like to retire to?
At 42, tempting as a rest might be, it's probably a bit early for thinking about permanent retirement!
Recommended for you

H2H project marks new beginning for Saltend