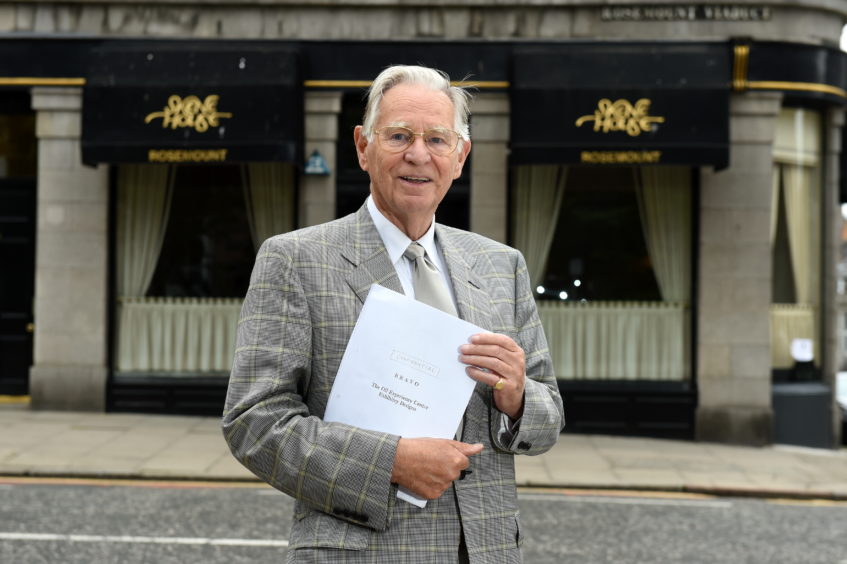 Plans for a major Aberdeen oil tourism site from over 30 years ago could be "resurrected" by a new rig idea for the harbour, according to a business leader.
Entrepreneur Charles Skene said he's in favour of a concept proposed last week for a decommissioned oil rig in the new harbour expansion in order to drive tourism.
The owner of Skene Group said it could be the "modern equivalent" of his 1988 scheme called "Bravo: The Oil Experience", a £15m "synthesis" of an "educational museum and a theme park" to promote Aberdeen's energy sector.
"Bravo", planned for the Beach Boulevard, was designed around the concept of an offshore visit, from a simulated helicopter ride, to work on the drill deck and exploring hyperbaric chambers for subsea divers, aimed at helping attract more young people to the industry.
By 1988, a committee had been formed, permission granted from the council for the Aberdeen oil tourism plans and consultants hired from the US.
The plans were well underway when oil firm Shell pulled out amid reports of escalating costs, killing it "stone dead" by 1993 when reserved land from the project was also removed.
However, Mr Skene hopes the new concept from campaigner Bill Skidmore, akin to the Ocean Star museum in Galveston, Texas, could reinvigorate the plans.
Mr Skene said: "I think it could be, shall we say, a version of Bravo. Better, perhaps, because you are actually on an oil rig. I am very much in favour of it.
"This idea of putting an oil rig off at the new harbour, I think, is a good thing. It could be the modern equivalent of the oil experience.
"These same principles we had all these years ago could well be resurrected and refined in one way or the other."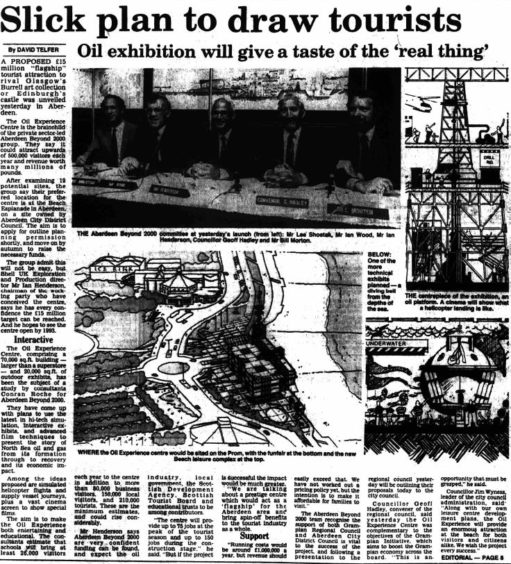 Mr Skidmore's suggestion was inspired by giant oil platforms like Brent Alpha now being decommissioned, with hopes to use one to mark Aberdeen's oil legacy.
Meanwhile Charles Skene's original idea came following a trip to the Permian Basin Petroleum Museum in Midlands, Texas while on an investor trip in the early 80s.
There he met future President George W. Bush and the immensely wealthy Hunt family behind Hunt Oil.
Inspired by the entrepreneurial spirit of the Americans, and their focus on the "industrial scene", Mr Skene came up with the idea for the Oil Experience Centre, which would include information on jobs in the industry, their salaries, and how individuals followed that career.
Mr Skene, a former governor of the Robert Gordon University (RGU) hoped Bravo could inspire children and young people to pursue those same careers.
However, with the industry now experiencing its second major downturn in less than a decade, he fears the "appetite" for oil firms to invest in a project like that may have "passed".
Unlike the Oil Experience Centre, which would have cost millions of pounds even in the 1980s, Decom North Sea has estimated that the new harbour idea might only run into "a few hundreds of thousands".
Mr Skene suggested groups like Scottish Enterprise may be asked to assist in the "interest of tourism and the promotion of the industrial economy", adding that it would help Aberdeen's diversification drive.
The 85-year-old business veteran would also be on-hand to support it.
He added: "The answer is yes. If they wanted help, certainly, of course.
"If it is connected to entrepreneurship and getting people thinking in different ways then of course I would."