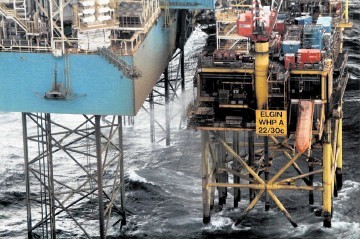 Plans to send specialists on board Total's abandoned Elgin platform were delayed yesterday amid fears the wind was blowing the potentially explosive gas cloud closer to the installation.
A team of eight men were due to board the North Sea platform last night to assess the gas leak, but the plans were abandoned after bosses at the French energy firm decided it was still unsafe.
Last night Total spokes-man Andrew Hogg confirmed there were fears the gas might have been blowing in the direction of the area the men would be working and where the helicopter was due to land.
However, he said as the wind was due to be travelling in a "more favourable direction" the team should be able to go onboard today.
A helicopter carrying the team – made up of well intervention specialists and Total staff – will land on the installation, which is still spewing out about seven tonnes of gas every hour.
It will be the first flight to the platform since all 238 workers were evacuated 10 days ago. Once on board, the team will do a "reconnaissance" of the site before attempting to secure the area so that workers can later begin a "top-kill" operation, which would involve pumping mud into the leaking G4 well.
Mr Hogg added that once the team had completed the groundwork another specialist crew would be sent to try to stem the hydrocarbon release. The team is due to only spend a few hours on the installation to assess how they could progress with "killing" the well.
The company has held talks with the Health and Safety Executive over the mission, but any decision to board the platform, 150 miles east of Aberdeen, was for Total to make.
The company is also proceeding with a separate plan to create two relief wells to divert the leaking gas, and drilling rigs are already being moved into position.
Initial relief drilling work is expected to begin around April 8, the offshore giant has said and yesterday flights were being sent out to the Gorilla V which has been earmarked for the operation.
The subsea mission to stem the flow of gas is expected to take six months to complete.
About 172 tonnes of gas is escaping from the platform each day, coming out from a rock formation below the sea.
It is then escaping into the air from a leak on the platform at the top of the well, about 80ft above sea level.
Recommended for you

Platform crew attempted rescue during fatal GoM helicopter crash