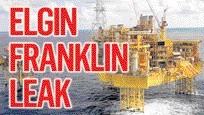 Oil giant Total has revealed details of how it plans to bring a major gas leak on board its Elgin platform under control.
The French energy firm has released illustrations showing the two technical solutions it is preparing to stem the seven tonnes of gas which is spewing from the North Sea installation every hour.
The first approach will see heavy mud being pumped down into the well from the top at high pressure using a semi-submersible rig. Once the mud has blocked the gas and restored the normal pressure, cement will be poured into the well to seal it.
Simultaneously, drilling will begin on two relief wells to intercept the leak and pump in mud from the bottom. This back-up method, which will be deployed in case the first approach fails to work, will take up to six months to complete.
A helicopter is due to drop off the well intervention team on the platform, along with specialist equipment which has been flown in for the first approach from Texas. In both cases, once the pressure balance is restored in the G4 well, work can start to plug it permanently by injecting cement.
All 238 workers were evacuated from the platform, around 150 miles off Aberdeen, two weeks ago after the leak was found.
Air and sea exclusions zones were immediately set up around the installation leaking highly-flammable hydrocarbon methane and emergency fire fighting vessels were sent to guard it amid fears it could explode.
The production on Shell's nearby Shearwater platform has also been halted as a direct result of the gas leak on the Elgin and all non essential personal were flown home.
Engineers from Total and Wild Well Control flew out to the Elgin to inspect the source of the leak on Thursday and confirmed an operation to repair the fault could go ahead.
This was the first flight to land on the installation since it was completely evacuated on March 25. The team of eight men were originally meant to board the platform on Wednesday. However, due to fears the wind was blowing the gas cloud closer to the platform, the operation was delayed while they waited for "more favourable weather".
A cargo plane carrying specialist equipment essential to the operation flew into Prestwick Airport on Saturday. The equipment has since been transferred to Aberdeen.
An environmental impact assessment of the gas leak is already under way and Greenpeace will soon receive results of samples it took three miles from the platform last week.
A newly-established Environment Group, chaired by Marine Scotland, are assessing and monitoring the impact of the leak.