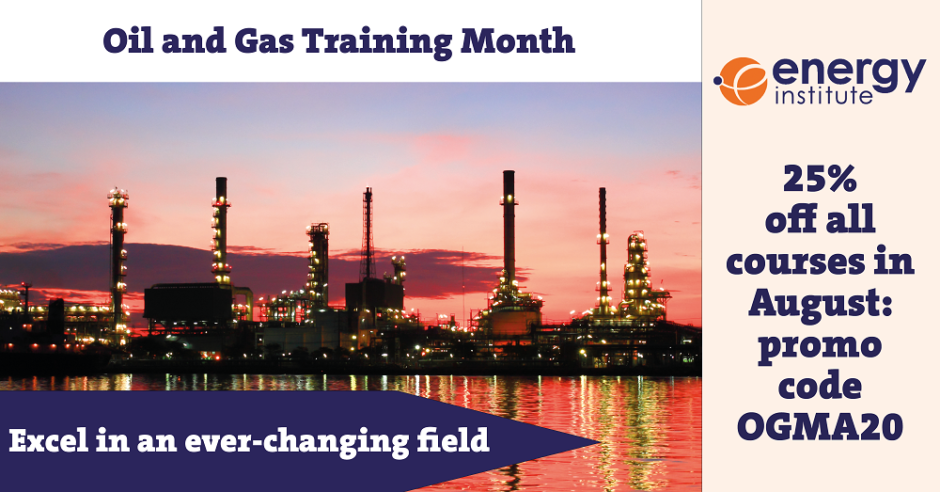 In this month's issue of Petroleum Review, the Energy Institute (EI) examines the transition towards net zero through the eyes of energy professionals, with a particular focus on the oil and gas sector.
The findings of this year's Barometer survey indicate that 'as 2050 approaches, EI members expect oil and gas companies to place increasing emphasis on selling low carbon liquids and gases, as well as providing other low carbon energy technologies and services …
The future of the sector, even in a transforming energy system, is secure, with only 2% believing these companies will no longer play a role in 2050.' (Full article available for members here).
Keeping up to date with the latest research, innovations, and plans for this field is crucial in order to excel in your career, which is why all EI courses are continuously updated – giving you the tools to start or further your career in this important field.
25% off all Oil and Gas Training Courses this August – please use promo code OGMA20 when booking
All Energy Institute online and virtual classroom training courses are:
Industry recognised
Available worldwide
Delivered by experienced practitioners
Interactive, allowing you to engage with the tutor and other delegates
Furthermore, as a non-profit, The Energy Institute is committed to delivering the most cost-effective options possible, with an additional 25% off for the rest of August!
Courses include:
Oil & Gas Industry Fundamentals – Awareness
7-10 September 2020, online
This 4-day awareness course provides delegates with an overview of principal activities in the international upstream, midstream, and downstream petroleum industry.
More information
Introduction to the Oil & Gas Industry
Online, self-paced
A self-paced version of the Oil & Gas Industry Fundamentals Course. You can book onto the full course or any of the individual modules.
More information
Oil & Gas Mergers & Acquisition: Acquiring & Divesting Assets & Companies
21 – 25 September 2020, online
This 5-day course focuses on integrating an understanding of Mergers & Acquisition (M&A) activity trends, the process involved in conducting M&A activities, and the skills that requires.
More information
Economics of the Oil and Gas Industry
23 – 26 November 2020, online
This 4-day course provides an introduction to the economics that drive the oil and gas industry, including oil and gas value chains, costs, revenues, and risks associated with various stages in the chains.
More information
Introduction to LNG
14 – 17 September 2020, online or 9 – 12 November 2020, online
This 4-day course gives an overview of the technology and economics of the global LNG industry, including the core technologies underpinning the LNG industry, and global LNG markets.
More information
To view all our Oil and Gas Courses, please visit: energy-inst.org/ogtraining