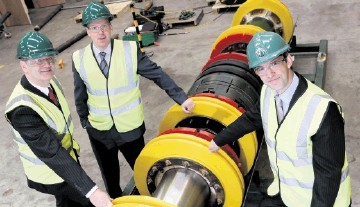 North-east oilfield service firm STATS Group said yesterday it had appointed two experienced directors as part of international expansion plans.
The pipeline-isolation specialist said retired Expro chairman Graeme Coutts had joined the board in a non-executive role, while former Petrofac Training Services managing director Leigh Howarth had been appointed as chief financial officer.
It comes after Kintore-based STATS received £7.8million of investment from the Business Growth Fund (BGF) to expand its 130-strong workforce and step up its work in international markets.
STATS chief executive Pete Duguid said that appointing Mr Coutts and Mr Howarth was a statement of clear intent from the firm.
He said their international experience would be instrumental in helping the business to fulfil its potential.
Mr Coutts, who spent 21 years with Expro in a variety of senior roles, said he had refused offers of executive appointments before joining STATS.
"I have had numerous approaches asking me to get involved in a variety of businesses, but my criteria was very clear," added Mr Coutts. "I want to support local entrepreneurs who stand out from the crowd and will benefit from my experience.
"STATS Group fits that criteria perfectly and I am looking forward to working with Pete Duguid and his team as we take the company to new heights."
Mr Howarth, who helped to guide operator EnQuest through its stock market flotation in 2010, joins STATS from Sparrows Group.
He succeeds Garry Allan, who has left the company to pursue other business interests. Mr Howarth said: "With the ongoing support of BGF, we have the financial resources to fast-track development of our product portfolio and to establish a global infrastructure which will deliver ambitious but achievable results in the years ahead."
STATS already operates in the UK, Canada, the Middle East and Asia-Pacific.
The company turned over £14million in 2011 and is expected to increase this to £25million this year.